Camelot Theme Park: Pictures show demolition work getting under way at the Charnock Richard site
It's been closed since 2012, but ever since parts of the Lancashire theme park could still be seen from the M6.
Wednesday, 9th December 2020, 7:46 am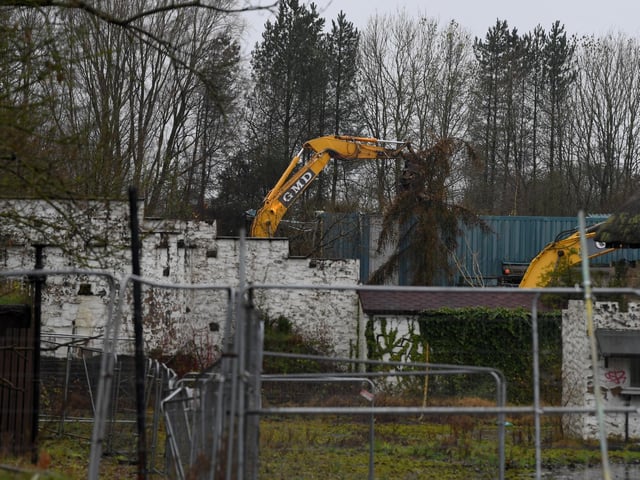 Demolition work under way at the former Camelot Theme Park at Charnock Richard
The park's theme was the well-known legend of Camelot, and the park decor incorporated pseudo-medieval elements
The park featured many rides and roller coasters, including Whirlwind, Knightmare and Excalibur.
The park was featured in a 1994 episode of Sooty & Co., in which presenter Matthew Corbett takes Sooty, Sweep and Soo there
The abandoned park was also profiled in a Series 2 episode 1 of Hidden Britain by Drone
The park opened in 1983 and was operating seasonally until the end of 2012
The park was based on the story of 'Camelot, King Arthur and the Knights of the Round Table'
The local area was once covered by the largest lake in England Martin Mere, which was first drained in 1692 by Thomas Fleetwood of Bank Hall in Bretherton
The story was that Sir Lancelot's parents King Ban of Benwick and his queen Elaine escaped to Lancashire from their enemies in France
Elaine went to help King Ban who had fallen and put Lancelot down on the shore of the lake, where he was abducted by nymph Vivian who vanished into the waters of the lake with him
Vivian brought up Lancelot, and when he went to King Arthur's court, he was knighted as 'Sir Lancelot of the Lake'.
Martin Mere has been locally known as the 'Lost Lake of Sir Lancelot' following the myth
Demolition work under way at the former Camelot Theme Park at Charnock Richard
The closure of the park was announced by its operator, Knights Leisure, on 4 November 2012, the managing director blaming poor summer weather and events such as London 2012 and the Diamond Jubilee for declining visitor numbers
A spokesperson for Story Homes, said: "Following the closure of the attraction more than eight years ago, demolition of a number of unstable structures at the former Camelot theme park site is in progress."
"Following planning refusal in 2018, Story Homes is still considering its options for this site."