Buy a 'mystery' original painting and get the rewards of finding out more about the artist
Our antiques expert Allan Blackburn takes a look at the work of artist Edgar Hodges...
Wednesday, 24th June 2020, 3:45 pm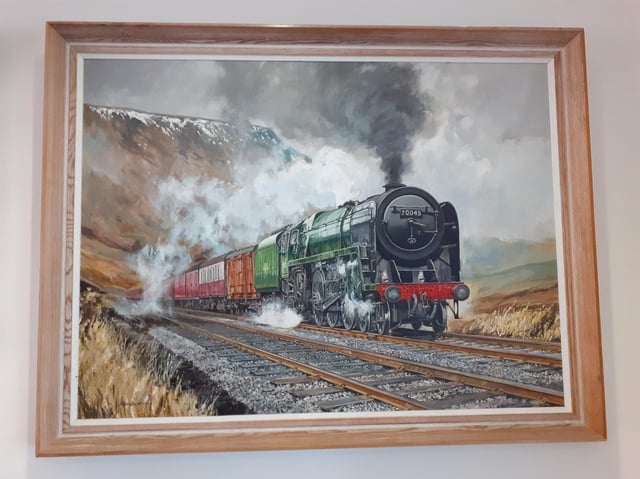 This Hodges painting is from my personal collection
This weekend should have been the Silverdale art trail, sadly another casualty of Coronavirus. It showcases hundreds of local artists, in every art and craft medium you could possibly imagine.
Did any of you get creative during lockdown? We often get novice artists in the centre looking for original paintings to copy. Better than online images, a real painting gives valuable insight into materials, texture, brushwork, techniques, and more.
Buying a 'mystery' original is also a great opportunity to find out more about an artist. With more time at home than usual this spring, I sat down to research one of my own favourite train paintings.
With only the name 'Hodges', and that the train was painted on a Yorkshire to Lancashire line, I hoped my artist might be local. Books and paintings will command higher prices in their own region, and while mine's absolutely not up for sale, a local connection would make it really special.
And what an interesting man I found! Edgar Hodges, born in Bolton in 1928, displayed such talent that aged 13 he won a scholarship to art school, having to leave at 16 to support his widowed mother and sisters.
Pursuing a career as a commercial artist, Edgar ended up illustrating dozens of much-loved annuals for World Distributors (WD) a Manchester publishing company, including Dad's Army, The Wombles, and Doctor Who. Most famously, he was asked to illustrate in entirety the first two Thomas the Tank Engine annuals. Copies today fetch up to £100 in mint condition!
Many of his paintings became 'Whitman' train jigsaws, (huge sellers in the 1970s) and cards for companies including Hallmark. So many of us have probably done an Edgar Hodges jigsaw, or sent one of his cards! Because companies retain ownership of the original artworks, it gives us an important clue that Edgar Hodges originals are going to be pretty rare.
I was delighted to discover that Edgar Hodges is still alive, and possibly painting, at the age of 92.
I hope my Hodges painting has illustrated that collecting needn't be about chasing a 'known' name or studio, but following your heart. Time spent researching opens up hidden stories and lives, and I guarantee you will feel much richer for it.