Bring out the best china to celebrate with your family
Our antiques expert Allan Blackburn looks at Shelley China and its history...
Thursday, 11th March 2021, 5:58 pm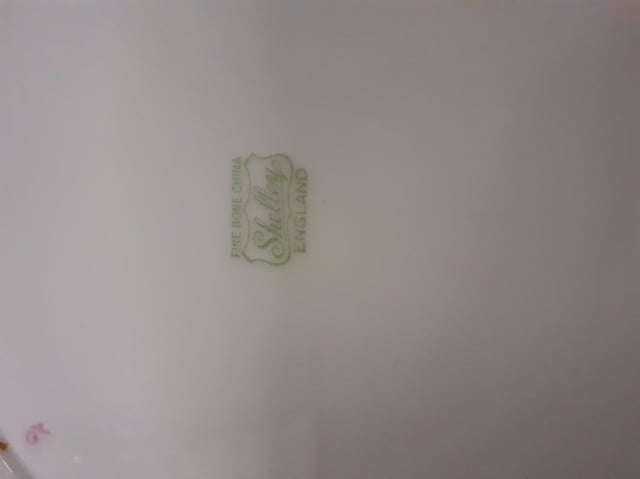 The Shelley mark on the bottom of the plate
The days are gradually getting longer, and hopes brighter too, with the amazing dedication of health workers to get the vaccine delivered.
A good piece of advice I heard recently was to celebrate and appreciate every positive step or achievement. Even if this is within your family or 'support bubble', nothing makes it feel more special than getting the best china out.
Producing a huge variety of designs, many of us will have some Shelley China tucked away, even if the name is less familiar to many. One of the most prolific quality British porcelain manufacturers, they still remain sought-after by discerning collectors.
This plate is a lovely example of the 'Pompadour' motif, introduced in the 1940s. It is just 10 pounds
Shelley porcelain originated in 1860 when Staffordshire firm Wileman's opened a second factory specialising in the finest china. Managed by former salesman James B. Shelley, the official trademark changed to Shelley China in 1910. With a variety of backstamps, design numbers and artists' marks over the years, 'Fine Bone China' was added in 1945.
They were innovative in producing distinctively shaped ranges of table ware, such as the Bute, Ovid, Dainty, or delicately fluted Queen Anne designs, which were then decorated in a dizzying variety of numbered or named patterns, from delicate white ware to floral, deco and chintz.
For would-be collectors, Shelley is a rewarding field. There are many books, catalogues, and websites, much fun to be had researching the various designs and patterns, and lots of opportunities to specialise.
Patterns like 'Sunrise and Tall Tree' and 'Blue Iris' can still be found at good entry-level prices, with elaborate floral patterns and rarely seen designs such as 'Cottage Two' much higher.
If you really want to be tempted, look up their striking Art Deco Ware from the 1920s and 30s; these services fetch thousands of pounds, and would make any meal truly special.
This plate is a lovely example of the 'Pompadour' motif, introduced in the 1940s. Its light florals made it very popular for afternoon tea sets, and this unusual gently six-sided plate was intended for cakes or finger sandwiches. We usually carry a wide range of floral china throughout the centre, perfect for when the sun comes out and people are finally allowed to get together and share a meal together.
Shelley's forward thinking underpinned their success. While other potteries relied on reputation and word of mouth, Shelley actively promoted its new designs through advertisements in the Pottery Gazette and women's magazines. Its principal target was the middle-class female with a discerning eye for fashion.
They commissioned the best designers of the day such as Frederick Rhead and Walter Slater, and artists Hilda Cowham and Mabel Lucie Attwell to produce nursery ware and the famous 'Boo Boo' range featuring children, animals and elves.
In 1926, the firm introduced the famous and elegant 'Shelley Girl', an eye catching, foot high bone china figure into stylish retail window displays.