Army major reveals the misery and music of a prisoner of war camp
Seventy-five years ago this month hundreds of Lancashire soldiers were released from prisoner of war camps in the Far East and one of the most senior wrote a remarkable letter to the Lancashire Post
Wednesday, 23rd September 2020, 7:00 am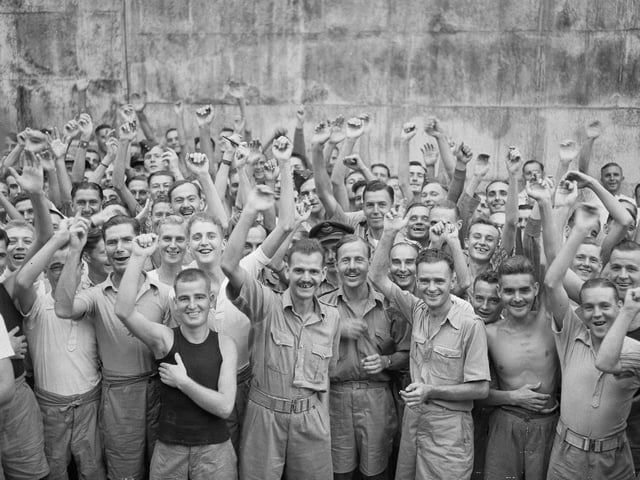 Allied prisoners of war celebrating their liberation from Changi Jail, Singapore, in 1945
Denis Arthur Sydenham Houghton came from a distinguished military background.
His father was a major and lived in Stone House, Broughton, Preston, while Denis himself worked as a solicitor in Winckley Street, Preston, before signing up for the Army in 1933.
After the Second World War broke out, he was quickly promoted to major of the 8th Brigade of 88th Field regiment of the Royal Artillery when his predecessor was killed in January 1941.
The following year, Maj Houghton was captured by the Japanese and spent the rest of the war as a prisoner.
After liberation from the notorious Changi Camp, in Singapore, it was confirmed on September 22, 1945 that he was alive and he had been released.
Within weeks he wrote a long letter outlining his experiences, which was published on the front page of the Lancashire Post.
In it he says: "I can't speak too highly of the general behaviour of our men compared with many other units. The 88th have certainly made a name for themselves as POW men, if they had no chance of doing it in action.
"Their general behaviour, discipline and unit spirit has been outstanding, They are a most adaptable and sensible body of men with whom I have been proud to serve."
Describing the fighting before the fall of Singapore, Maj Houghton says: "The campaign here was very exhausting, walking backwards always is, and once the Nips had stared the result was inevitable.
"They had control over both air and sea, and could land behind us whenever they chose. There were obvious faults on our side, lack of preparation, muddle, etc., but you can't defend the whole Empire at the same time.
"The regiment was split for the beginning of the campaign, 464 Battery being detached to support 9th Indian Division on the east coast. As most of the early fighting was on the west, we thus had an easier time.
"However, we made contact all right and had our share of bombs, but the 88th learned concealment from the air in France, so that didn't bother us."
Later, the battery rejoined the regiment, which was gradually forced back until only one troop of Maj Houghton's unit was covering the rearguard, and those were the last guns to return to the island on January 31, 1942.
Maj Houghton says: "I think the regiment was the only gunner unit which did not lose a single gun to the enemy. One incident showing our good fortune sticks in my mind. The Nips used to pattern bomb us – that is a formation of 27 bombers would fly over in perfect formation and drop all their bombs at once.
"My battery HQ was unlucky enough to be in the middle of one of these patterns, and when I saw the bombs coming down like silver raindrops I thought we were all finished.
"Actually our only injury among 40 men was a bruised collarbone and a scratch on the nose, mine, of course. I made all lie flat and the largest bomb dropped within 10 yards of me. Talk about luck! When we were told of the capitulation, my chaps were furious and wanted to go on fighting.
"One troop, led by their troop commander, armed themselves with rifles and ammunition and drove down to the docks as a body intent on getting to Sumatra and carrying on there.
"But I had to follow them and tell them that chances were very slender for large parties, and the commanding officer wanted us all to stick together. After the capitulation, we marched by units up to Changi, about 14 miles at a snail's pace, carrying our kits, on a very hot afternoon, with about two lorries per unit.
"I filled mine with about five tons of food and was glad afterwards. Our first area was the new garrison area, with housing for about 5,000 and 50,000 troops to occupy it, so many were in tents and all were crowded. For two months I was busy on routine work, but in that time we got some entertainment going."
In April 1942, 500 men of the 88th and 400 of another gunner unit were sent as working parties to Singapore where they lived in palm leaf native huts under a very drunken and dissolute unit of Japanese engineers.
They had some shopping facilities but received no pay before October, by which time health had deteriorated and 50 per cent of the men were unfit to go out to work, mostly as a result of insufficient food.
In August and October 1942 they received Red Cross food which was rationed over a period of three months. It was invaluable, though scanty. Later, they moved to a bigger camp in Singapore and Christmas Day 1942 was a wonderful day for food in spite of the Japanese.
On December 27 they were unexpectedly returned to Changi where they found a canteen, theatres, clubs and churches had been established. All officers above the rank of lieutenant colonel had been sent to Japan and other working parties had gone to Burma, Borneo and Thailand. Many of the 88th had also left.
"It was a very welcome change to get away from close contact with the Nips," continues Maj Houghton.
"In such a large camp of 15,000 or so, one very rarely encountered one's guards. You will notice that the Nips never separated officers and men, it suited them better to make us look after our own men. Escape was virtually impossible, the natural obstacles being practically impassable.
"Life was pleasant for a time after the working camps. Our theatre would honestly not have disgraced the West End in its staging and effects, and many of the shows were of a very high standard. A number of musical instruments had been discovered or acquired in Singapore. We had many fine players and we formed an 18th Division orchestra.
"About three months ago, I formed a new musical combination to meet the demand for good music, this time a chamber sextet of two violins,clarinet, cello, bass and piano, and we now have a repertoire of 30 pieces, mostly Handel, Bach, Mozart and Beethoven, including Eine Kleine Nacht music complete, scored from memory by our Dutch violinist.
"We have a male voice choir going most of the time, under a professor of music and each church has its own choir, but living on the daily ration of a hen does not improve the voice."