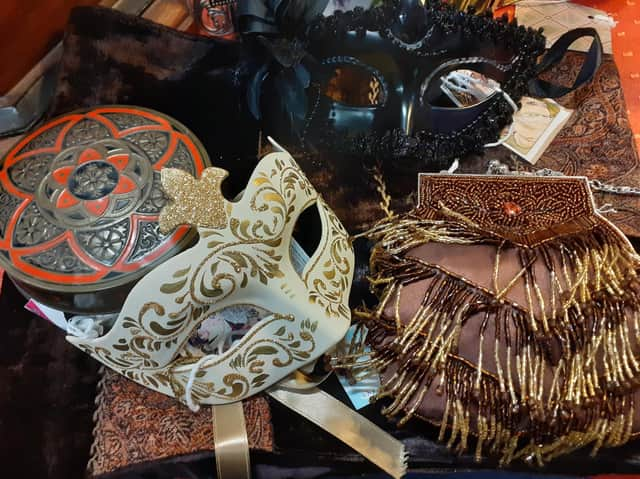 Masks and glamorous accessories for a night at the theatre
Who would have thought we'd all get so used to wearing masks? It's got to the point when I tut at people on TV not wearing them, then realise it's a black and white film!
Masks have been part of culture for thousands of years.
Mask derives from the French 'masque', a type of play, and we still represent theatre with masks of the tragedy and comedy muses from ancient Greek theatre. Actors' masks could represent different characters, or traits like duplicity.
Having the added benefit of providing anonymity, masks became popular items of fashion. Through the 17th and 18th centuries, shops advertised a variety of masks for the whole family, reminding people to buy the latest 'satin, taffeta and velvet masks for the winter season'.
As a small, wealthy city, Venice developed masks to hide a citizen's identity during social activities, later evolving into the spectacular Carnival.
Distinctive Venetian masks are traditionally made from papier-mâché, and exuberantly decorated with fur, fabric, gems, or feathers. People enjoy displaying them as mementoes of
Carnival, or simply because they make wonderful decorations.
Many modern masks are still handmade, and make beautiful souvenirs or to display. This mask along with the glamorous evening bag would be a fine accompaniment for a trip to the theatre.
Historical collectors will be looking for authentic and antique masks, from Italy's carnival and 'commedia dell'arte' (improvisational theatre) traditions.
There are dozens of archetypes, the most recognisable being the white faced Pierrot, often portrayed with a single teardrop, or the Jester's three-pointed mask adorned with bells.
Or how about the unsettlingly topical Dottore Peste ('plague doctor') mask, whose long nose stuffed with herbs and spices was thought to purify the air being breathed in.
Genuine antique Venetian or theatrical masks, made from papier-mâché, leather or even silver filigree, start at about £300, rising much higher depending on age, condition and decoration.
In a year where we've all become masked, this might be just the inspiration to add some drama and decoration to your choice of face covering!