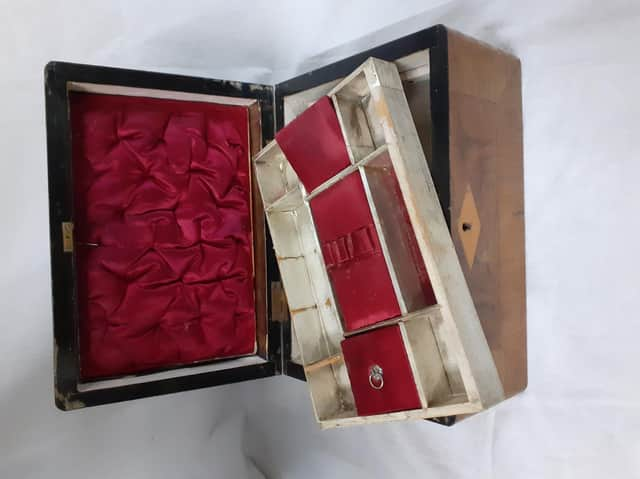 The perfect Christmas gift
Are you thinking about your special someone as thoughts turn towards Christmas? When the shops reopen they'll be teeming with all manner of romantic cards, gifts, huge boxes of chocolates and, increasingly, big-eyed soft toys.
The declaration of love, shared at Christmas has long been realised in jewellery. So much so, that many people (some lucky readers included, I hope), have built up enviable jewellery collections over the years.If you have a nice selection of meaningful, valuable or (of course I would say) antique jewellery, then you really need a complementary box to store it safely and display it inspiringly.
Jewellery boxes were in common use as early as 5000 BC in Ancient Egypt, but until the Victorian era, owning jewellery was a rare luxury. As jewellery became more affordable during the Industrial Revolution, jewellery boxes, too, were mass-produced for the middle class.
Some jewellery boxes grew to be as ornate as the pieces they contained, crafted in silver and studded with gems themselves. Prices for such can run to hundreds of thousands of pounds!
If, however, you would like enough money left over for some jewellery to keep in your box, some of the most pleasing examples are Victorian wooden jewellery boxes, which start at about £100 in good condition. Rosewood, mahogany and walnut were favoured woods, which give a simple box beautiful depth and warmth.
'Boxes' can also be cylindrical, heart-shaped, egg-shaped, or shaped like human figurines. Respected ceramic factories in Limoges and glassmakers like Fenton have also made their own unique jewellery containers.
We are most familiar with rectangular jewellery boxes like the one pictured. These wooden jewellery boxes are currently in the centre priced at £28 each and are nice examples, with an inlaid pattern and several compartments.
Boxes made during the Art Nouveau movement maintained a romantic Victorian tradition; the type of flowers depicted can represent a coded message perfect for Valentine's.
Four-leaf clovers meant good luck, daisies: innocence, and roses: love. Made from the turn of the century to the 1920s, few of these metal boxes have survived in good condition, they are highly sought by collectors today.