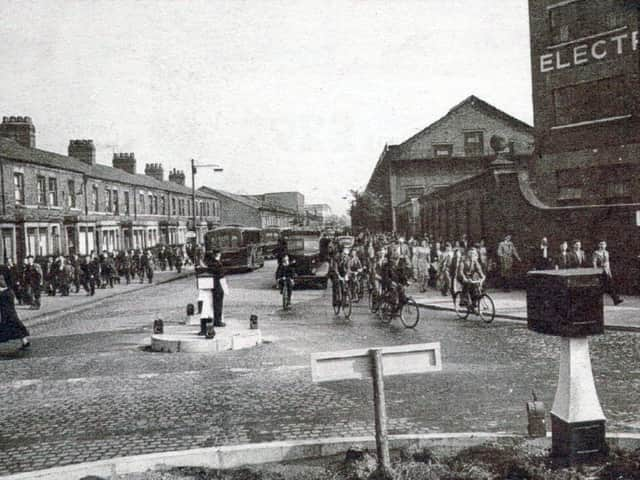 Hundreds of workers would make a quick exit from English Electric on Strand Road at the end of the day
The English Electric Company on Strand Road in Preston was a busy place during the years of the Second World War with production of aircraft so essential for the country.
It was therefore something of a sensation in mid-April 1941 when 39 employees appeared at the Preston Quarter Session accused of conspiracy to defraud the company by means of falsification of their pay cards.
Chairman Mr Justice Singleton heard from Mr. R. Nicklin prosecuting who explained that the 39 defendants were involved in three cases of conspiracy to defraud, involving sums of money ranging from £40 to £4. The frauds had been going on for at least nine months with shop clerks actively ignoring the trust put up on them.
Mr. Nicklin explained how the frauds had been made possible by the collaboration of shop clerks and workmen who were paid on a piece work bonus system.
The shop clerks had access to the bonus cards and by making alterations on those they enabled certain workmen to draw a bonus they had not earned. The workmen in the pool being happy to hand over half of their extra payments to the shop clerks concerned. Only when the company accounts were audited did the fraud come to light.
All of the defendants were allowed to sit in the body of the court and their names and occupations were read out. Fitters, riveters, engine cleaners, shop and time clerks all accused and all having admitted their guilt.
Addressing the prisoners Justice Singleton told them that it was shocking that at a time when the country was fraught with difficulties there should be a wide spread conspiracy of this kind.
Men who were in a reserved occupations willing to defraud their country whilst others of their age were on active duty risking their lives.
Detective Sergeant Dawson stated that having interviewed all those involved that William Churchman, aged 19, Harold Worthington, aged 32, Harold Brough, aged 40, Arthur Coles, aged 37, and George Griffiths, aged 53, were leading activists in the conspiracy. Worthington, who denied he had a leading role, had claimed he had tried to stop it, but too many men were involved and admitted that due to his poor pay as a shop clerk he had been tempted by the easy money on offer.
The rest of the day was spent by the magistrates considering what punishments to hand out and by Justice Singleton passing sentence. Brough and Worthington were sentenced to two years in imprisonment, Churchman and Coles received sentences of 18 months and Thomas Cousins, aged 40, and John Johnson, aged 45, were imprisoned for 12 months.
Further sentences ranging from nine months to four months in prison were then handed out including a six-month term for George Griffiths. Altogether, 27 were handed a spell in prison and the remaining 12 received fines of between £40 and £10.
It was a harsh lesson for the company who introduced a more efficient method of bonus payments in the aftermath of the fraud.
In 1938 the English Electric company, with an aerodrome at Samlesbury and the premises on Str and Road in Preston, had been awarded a contract for manufacture of 75 Hampden bombers. Altogether some 770 Hampden's would come off the Preston production lines by March 1942. It meant round the clock working for Preston folk with 12 hour shifts.
When production ceased on the Hampden they began building the Halifax, a four-engined heavy bomber. Over 2,100 of these aircraft being built at Strand Road. In 1945 the first English Electric designed De Havilland Vampire jet aircraft was flown from the Samlesbury airfield as they worked to fulfil orders for 300 of them.
The work of so many patriotic employees during the war years creating the roots of the BAE Systems company of today that employs some 10,000 folk at the forefront of aircraft technology.
A memorial plaque on Strand Road reminds us of the English Electric workers great achievements on a site from which BAE Systems departed in 1993.