These are the buildings in Preston that most readers want to see the back of
Our city has seen some impressive transformation over the last few years.
Friday, 12th March 2021, 4:28 pm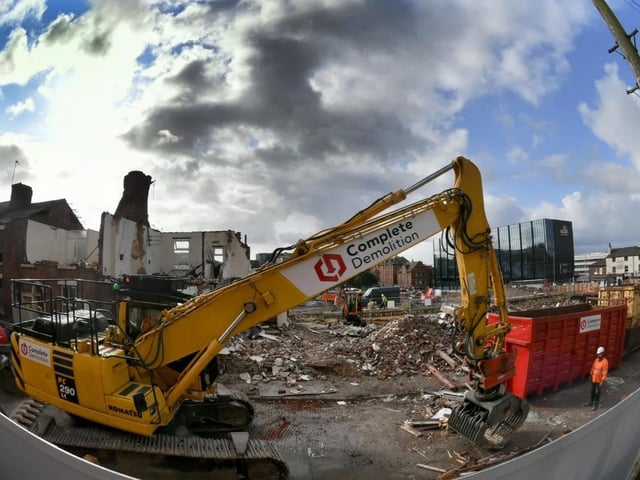 Demolition and construction work at UCLan, Preston
Which got us wondering which buildings or areas of Preston you'd like to see spruced up, given some much-needed TLC, or even just bulldozed completely.
This is what you told us:
The former Spindlemakers Arms on Lancaster Road North. A Thwaite's pub that appeared in the first Good Beer Guide in 1974, but closed in 1994 and has been boarded up since
Sandown Court, Avenham Lane. Despite a recent facelift, readers thought the Preston skyline could do without it
New Hall Lane used to be the place for cotton mills, but now people see it as a rather shabby entrance route into Preston
Ribbleton Lane - One reader said "Absolute eye sore coming into the city. Needs a full commercial face lift"
Chicken Factory, Fletcher Road - One reader said "That chicken factory on Fletcher Road, that end of Preston smells so bad."
Preston Prison - There has been a prison on the current site of HMP Preston since 1790, however it was completely rebuilt as a Victorian radial design prison between 1840 and 1895
Crystal House. In 1947 the magnificent gothic Public Hall, built to display Preston's 19th Century industrial wealth and designed by architect Sir George Gilbert Scott burnt down and was left derelict until 1962 when Crystal House was built.
Preston Guild Hall. The Guild Hall was commissioned to replace the town's Public Hall. The new building, which was designed by Robert Matthew, Johnson Marshall, was due to be ready for the Preston Guild of 1972, but after construction was delayed, it only officially opened in 1973
Plungington Sculptures. One reader said "The apparent piece of "modern art " on Aqueduct St,.. I'd take down and weight it in and donate proceeds to fill the hole were it was... it's a eye sore..."
The former Crest Hotel. It is of course now the Holiday Inn, but back in 1975 the New Preston Crest Hotel arrived in the city
Church Street. One reader said "Keep the bluebell etc but demolish the rest"
Preston Bus Station. A reader said "While people suggest the bus station, I completely agree due to its location. It is a monumental waste of space. I also understand the architectural importance of it so whatever. But being honest, what I would love to see demolished more than anything"
Breeze Block shopping centre. "That breeze block monstrosity that houses Aldi and Poundstretcher on Corporation St."
The Ring Road came in for some criticism too, along with Preston's one way system
The Warehouse nightclub. A reader said "It stinks, knock it down and build something more sophisticated"
The old B&Q. "Looks horrendous!" said a reader