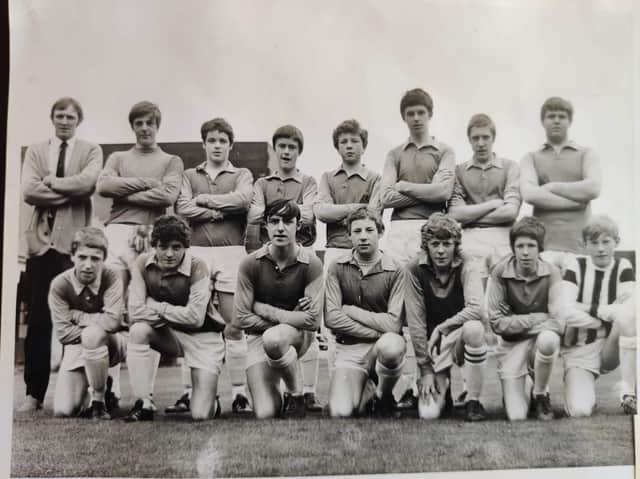 The Skerton County Secondary School football team in 1970.
But it was quite an achievement for Skerton's 400 boys competing against St Kevin's with more than 2,000 boys.
The success of the team in the competition was due to the teachers who were always first to encourage sports and other outdoor activities.
In this particular year, it was Mr Potter, with his enthusiasm and commitment, who organised us into a strong team, even getting the boys into school in the Easter holiday to prepare for the final.
The football programme from 1970.
On match days we had great support from the school and the residents of Skerton, who would fill the school field, and the pavement on Owen Road, to watch the games.
The caretaker would dress up for the occasion with rosettes, a big top hat and large wooden rattle.
He would organise the crowd into singing and chants, which created a wonderful atmosphere.
Here we reproduce the programme for Skerton CSS vs St Kevin's, Kirkby Liverpool.
First page of programme read: 'We are very pleased that the Mayor and Mayoress of Lancaster, Alderman D. Clift and Mrs. Clift, and several Councillors have accepted the invitation from the Lancaster, Morecambe and District Secondary Schools' Sports Association to attend today, also that the Divisional Education Officer, Mr EE Clarke, hopes to be here. We at Skerton are most happy to welcome them.
'Among our guests we also welcome Alderman Treu, the chairman of our governors, and other school governors.'
Second page of programme read: 'To our visitors, St. Kevin's of Kirkby, near Liverpool, we wish to give a very sincere welcome, and we are looking forward to meeting them after having read and heard so much about them.
'Naturally, the boys of Skerton Boys' Football Team are very proud to have reached the final of the Lancashire Schools' FA Champion School Competition.
'They are, however, very much aware of all the help they have received off the football field and so, on behalf of them and myself, we wish to say "Thank you" too all concerned. In particular we must mention the following: The Local School Sports Association Football Section, chairman, Mr Barratt, and especially Mr Pickup, their secretary. Mr Birkett, acting headmaster, and all at Skerton Boys' School who have helped in any way. Mr Potter, who has worked so hard to form this team.
'Mr Alaton and the Friends of Skerton who have willingly arranged for the catering.
'All staff of primary and secondary schools who have assisted in selling tickets, etc.
'All spectators for their loyal support.'
Third page of programme revealed the team sheet
Skerton (blue and yellow shirts)
Reserves: Chamberlain, Williams.
Fourth page of programme read how Skerton Boys' reached the final of the Lancashire Schools' FA Champion School Competition
Ripley St. Thomas (Home) 8-1
Garstang C.S. - Semi Final (Away) 2-0
Our Lady's High School - Final (Away) 4-2
St. Aloysius C.S. - Final (Away) 1-0
Bolton: Turton C.S. - Quarter Final (Home) 2-1
St. Theodore's C.S. - Semi Final (Home) 3-2
St. Kevin's - Final (Home and Away)
Players on team in photograph: Back row from left: Mr S. Potter, A. Nixon, K. Diack, I. Ford, D. Nicholls, J. Parkinson, S. Lunn, B. Brotheridge.
Front row from left: J. Brown, R. Gates, B. Barwick, M. Graham, D. Gates, B. Chamberlain, K. Stephenson.