The Book Bench Trail has made a colourful return to Chorley. Here's all the 14 benches and where you can find them
All of the designs were inspired by best-loved works of literature which pupils across Chorley then brought to life as pieces of art
Wednesday, 21st April 2021, 1:26 pm
Updated
Wednesday, 21st April 2021, 1:40 pm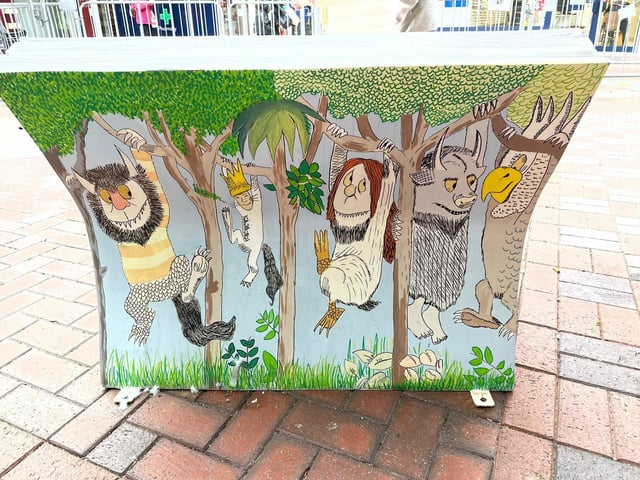 Artwork you can enjoy as you relax ... this bench called Where the Wild Things Are was created by pupils at Balshaw Lane Community Primary School
The popular Book Bench Trail is back as part of the build-up to What's Your Story, Chorley? which returns as a virtual event on Saturday April 24.
The benches have been scattered across Chorley and will remain in place until May 9.
This bench by pupils from Coppull Parish CE Primary School is Number One in the Book Bench trail. It can be found outside Booths
Each bench has an answer to the quiz, as well as having a QR code to scan for more information, including the inspiration behind it and the school that designed it.
The famous characters from the Wizard of Oz wander down the Yellow Brick Road on this bench by Adlington Primary School. It is situated by Bubble n Shake and is Number 2 in the trail.
These amazing Egyptian images are by pupils of St Chad's Catholic Primary School. You can find this ancient royalty by the Calico Lounge on Flat Iron Parade.
This galactic bench made together by Edge Hill University and Ormskirk West End can be found in the Civic Square.
The book character Silly Billy takes a seat on his own bench in this artwork created by Mawdesley St Peter's CE Primary School. Find it by Eden of Chorley in the Book Bench Trail.
The waterfall the famous adventurer David Livingstone discovered is featured in the bench by St James' CE Primary School. Find your way to it by heading towards M&S Food
Pete the Badger makes an appearance from the book Tidy, thanks to the pupils from St Peter's CE Primary School. Find the bench at the corner of Market Street and St Thomas' Road.
Pupils from Balshaw Lane Community Primary School in Euxton imagined some scenes from the book Where the Wild Things Are. Enjoy their imagination on Market Walk, near the Fragrance Shop.
The captivating story of Lila's Kenyan village is imagined by pupils of St Gregory's Catholic Primary School. Find the bench on Market Walk.
If ever you have a dragon you may need to train it. This bench based on the book is by Sacred Heart Catholic Primary School and can be found outside Reel CInema.
This is truly a Cosmic piece of artwork created by St George's CE Primary School pupils and can be found outside St Laurence's Church.
This is very colourful bench to enjoy a rest. Images of the rainforest have been painted by a team at Adlington Library and can be found by St Mary's Arch.
This bench celebrating Moses can be found by the Union Street Council Offices. The artwork has been created by St George's CE Primary School.
Reach out and see if you can catch a star while relaxing on this bench created by pupils of Charnock Richard CE Primary School. It is sited by the Youth Zone and is the last bench in the trail.