Old Preston church gets new building from on high
Preston city centre is to get another high-rise building, nine years after the location was first approved.
A developer has been given the final go-ahead to replace a 120-year-old wooden church in Corporation Street with an eight-storey apartment block.
The building will provide new premises for the Preston City Mission (inset) on the ground floor, with 78 apartments above.
There will also be room for either a small convenience store or a bar/restaurant at street level.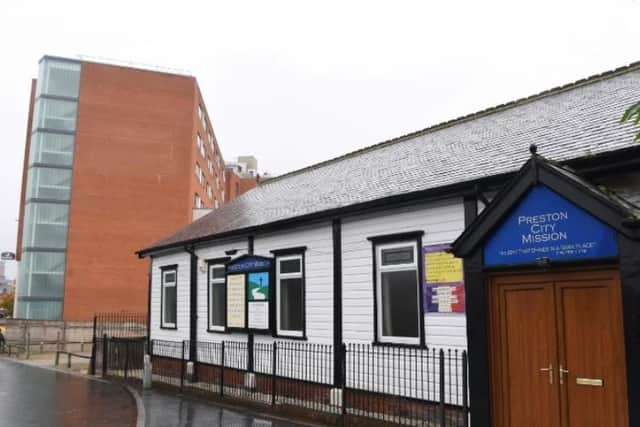 The plan has finally been given the green light by the city council three years after it was submitted and nine years after an even taller block - a 13-storey student tower - was approved on the same spot in 2011. That never got off the ground due to funding issues.
This eight-storey development by Hollinwood Homes will have 60 one-bed flats and 18 two-bed, all for private rent.
The project is part of the Corporation Street City Centre Opportunity Area initiative which is looking to provide at least 600 homes in that part of the city by 2026.
The new church on the ground floor will have a cruciform window on the front of the building. The design of its new home will give the church more space for various uses. Its current building is deemed "no longer fit for purpose."
The developers say there has been an increase in demand for apartments in the city centre in the past three years. In a statement to the council a lettings agent says: "Demand from investors/owner occupiers for new build apartments has been low in recent years. However since the start of 2017 we have noticed a distinct reversal in this trend.
"We have seen a steady increase in demand for two-bedroom apartments over the past 12 months with young professionals moving into the city in larger numbers and many moving back from Manchester to Preston where rents and prices are more affordable.
"Looking ahead I see the rental market growing significantly as the council's City Living strategy takes effect."
Built in 1900, the wooden church was originally the Railway Mission, set up and run by railway workers. It no longer has any connection with the railway.
Preston City Mission is described as a "very active faith community operating from a building which is no longer fit for purpose."
A report says the new building will have both worship and outreach facilities.