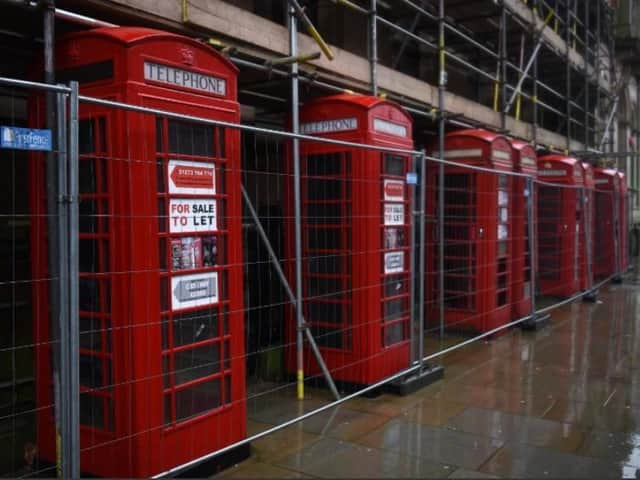 Fenced in - Preston landmark red phone boxes.
Contractors have fenced off the heritage landmark to prevent them from being damaged while the stop-start conversion of the city's former Post Office continues.
And there were reports this week that the fencing may be for security reasons, to stop youths climbing on the Market Street kiosks to access the scaffolding above.
But Edward Ottewell, whose company RKC Estates owns seven of the nine boxes, admitted he had no idea the barriers had been put up, or why.
"It's news to me," he said. "Whoever has fenced them off didn't get authority from us to do it.
"It's good in a way I suppose because they're being protected. But it would have been nice if someone had had the common courtesy to inform us they were doing it."
RKC Estates says it has received a number of enquiries about renting or buying the boxes for either retail or advertising. One offer came from Signature Living, the company behind the Shankly Hotel, another was from an advertising company and a third from a rival hotel firm in Preston.
The company has refurbished two of its seven and plans to complete the others when the work on the Shankly - already nearly three years behind schedule - is completed.
"We have got three potential tenants lined up and one potential buyer," said Edward Ottewell. "They are unique because they are the only seven in a row that we have.
"We will be moving in to do them up as soon as we can."