From Poland to Longridge via the battlefields of WWII: The historic Bryszkiewski story of pride, endurance, and family
As a keen fan of Airfix models, an 11-year-old Frank Bryszkiewski was elated at the prospect of going on a plane in the summer of 1974.
Monday, 12th April 2021, 7:00 am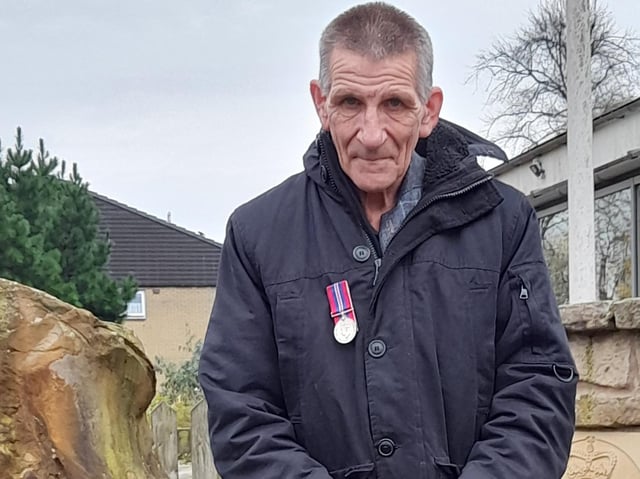 Frank Bryszkiewski wearing his father's medal at the memorial in Longridge
His parents, Franciszek and Kathleen, had decided on a trip to West Germany to visit their elder son Jan, who worked on an air base in Bielefeld. Little did young Frank know, the trip was to be as historic as it was exciting.
Franciszek Bryszkiewski was born in 1923 in the Polish village of Sugajno, which lies almost equidistant between Warsaw and Gdansk. One of seven children, he and his older brother Jan (after whom he named his own son) were in their mid-teens when the ravages of the Second World War brought a Nazi invasion crashing through their lives.
Threatened with the complete destruction of their home and possible incarceration in the death camps, they were forced to join the invading force.
Brothers Franciszek (left) and Jan Bryszkiewski
Having reluctantly agreed to fight, Franciszek and Jan became separated in the confusion of battle. Unaware of his brother's fate, Franciszek was captured by the Allies - an unverified rumour has it that he purposefully sustained a leg wound so he would be apprehended - and offered the chance of repatriation as part of the Polish Armed Forces.
He took this chance enthusiastically out of loyalty to his Polish homeland and, thus, helped contribute to the fight for the very freedom we now enjoy as a nation alongside his fellow Allied soldiers.
Owing to his taciturn nature and unwillingness to speak of his experiences during the war, few details are known about Franciszek's past. But, after the conflict ended, he came to England, settling in Longridge in 1946 where he worked as a farm labourer and in a textile factory. He met his wife-to-be Kathleen Margerison and went on to receive his certificate of naturalisation in 1960.
Separated from Jan, who for all he knew was dead, he started a new life.
Franciszek Bryszkiewski's certificate of naturalisation from May 1960
In 1974, the World Cup was being played in West Germany and young Frank can vividly remember the excitement which gripped the nation that summer, despite his personal attentions being more fervently drawn by the wonders on offer in German toy stores, which dazzled him. But he remembers the trip to see his long-lost uncle Jan most keenly of all.
After the war, Jan had settled in Thüngersheim in Bavaria and, by the '70s, was running a large vineyard in the area. Franciszek had learned of his brother's life in Bavaria and so he, Kathleen, and Frank took a detour from their visit to Bielefeld and made the 200-mile drive south to see him.
It was to be the first time the two brothers had seen each other in 35 years.
The farmland where the Bryszkiewski farm sat in Poland
"I'll always wonder what the two men were thinking as they were about to meet after all that time, separated for 35 years through no fault of their own," says Preston-born Frank, himself now 59. "Thinking about the two brothers, who had been separated from their families by war and greed, I realised that they missed a lifetime of being together.
"Given what they went through in their young lives, to escape death was truly a miracle; God must have blessed their paths," he adds. "[Seeing them together] was a sight I will never forget and I'm proud to have been a part of that. God bless them both."
After a week, Franciszek and his family had to return home. The brothers never saw each other again. Franciszek died in 1977.
"We can't comprehend the sacrifices they made," says Frank, who now lives in Brookfield, Preston. "My father did not discuss the war in much detail - maybe the odd ramble after a few rums - but, whatever the truth was, he was captured and chose to be repatriated with the Polish Free Army and given the chance to fight for his beloved Poland
Leonard Kniffel (back, right) and Frank (front, right) in Longridge in 2011
"I know he served in a tank unit because he'd tell me how they cooked breakfast on the tanks in the summer heat," Frank adds. "But he and his brother got separated when they were fighting - they could've been pointing guns at each other for all they knew, which is a strange thought. It makes you wonder about the things which were going through their minds.
"It must've been horrendous for them."
Growing up, Frank says his father was 'quite strict', adding that his and his sisters' friends were intimidated by such an unforthcoming man. "But, after a bottle of Lamb's Navy rum, he was different," Frank says. "He was much more mellow, singing rude songs in Polish and telling me of times in Poland. He was a hard worker and very well-respected by everyone who knew him."
While the war was seldom a topic broached at the dinner table, Frank says that he has utmost respect for what his father went through.
And said sense of respect only increased when he learned that Franciszek was actually awarded a medal for his service - a medal which he never claimed and which Frank's brother Jan, who himself died in 2000, had claimed on his father's behalf after his passing and neglected to tell Frank about.
"I wear his medal every Remembrance Day," says Frank with pride. "Last time I wore it, I kept it on for four days as my own Remembrance because, without my dad and people like him, we'd be goose-stepping. I don't know why he never claimed his medal, but he earned it and it's a link to my dad."
Frank Bryszkiewski's grandfather's grave in Poland
Having always nurtured a passion for family history, Frank had harboured designs of making his own personal pilgrimage to Poland to see his ancestral homeland for as long as he could remember. He finally made that trip two-and-a-half years ago, inspired in no small part by a distant cousin called Leonard Kniffel, who lived in Chicago and was similarly fascinated by the family's rich history.
Frank and Leonard had struck up a correspondence in 2004, bonding over a shared interest in ancestry, and even managed to meet in 2011 when Leonard, the former editor-in-chief of American Libraries and a published author, travelled to the UK to meet the branch of the family tree which had settled in the UK.
"When we met in a pub in Longridge, it was unbelievable," says Frank. "We had an immediate connection and we spoke like brothers. It was magnetic."
Somewhat out-of-the-blue, Leonard himself died last month at the age of 73 after a three-month battle with cancer. "I didn't even know he was ill so it came as a huge shock," says Frank. "He was an amazing bloke who made my journey to Poland possible and brought this whole story to life."
Visiting his ostensible homeland had been a lifelong goal for Frank and, as the clouds broke over the Baltic and he saw Poland for the first time, tears came to his eyes.
"I'm not ashamed to say that cried on the plane and, when we landed, I knelt down and touched the tarmac," says Frank. "I knew I had to go and it was quite the experience. Coming through Passport control, they smiled as if to say 'welcome back' and, whenever I showed people my surname, they welcomed me as if I was home."
With help from a second cousin named Bartek, who lived in Poland and spoke English, Frank visited his grandfather's grave and the land on which his father's family home once stood - the very same land from which his father was torn by the Nazis half-a-century earlier.
"The whole thing was quite surreal," Frank explains. "Bartek took me right into the heart of Poland to meet my Polish family. One woman, who was in her 80s, wouldn't let go of my hand because, for her, looking at me was like she was looking at my dad."
The Bryszkiewski story is one of pride, of history, of endurance, and of family.
"My dad left an amazing legacy," says Frank. "He was stolen from his family and forced to fight, but he gladly gave up his own life for us - his kids - which is something I'll never forget. And I instill that knowledge in my own children, as well - my son, Andrew, took my dad's medal into school when they were studying World War II.
"It's a real, tangible link to a granddad he never met."