Astley Hall: We discover what's happening behind the scenes as tarpaulin shrouds iconic building
Extensive renovation work at Chorley's famous hall is part of a £1.1m scheme to preserve it for future generations.
Wednesday, 28th April 2021, 3:54 pm
Updated
Thursday, 29th April 2021, 9:33 am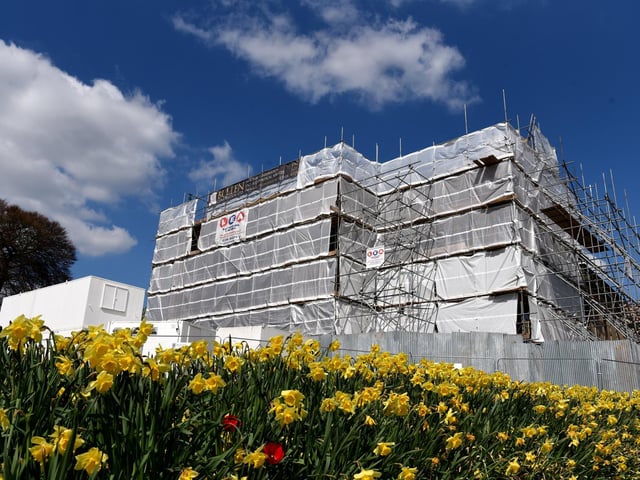 Under wraps - Astley Hall undergoing the restoration. Picture by Neil Cross
Renovation work has revealed the hall's history, as the exterior render has been removed to uncover the original 17th century brickwork unseen for 200 years.
Specialist contractors have been removing the render by hand from the Grade 1 listed building to reveal the brick.
It is in much better condition than imagined, making proposals to restore the hall back to its original state a real possibility.
The grounds of Astley Hall are always inviting as the work continues. Picture: Neil Cross
The brickwork is being steamed and pointed.
Local bricks from the same period have been sourced in case any of the hall's original bricks are beyond repair.
Replacement ground and first floor front windows are being made.
Gary Hall, Chief Executive of Chorley Council, said: "This vital renovation work has been extremely exciting so far and unveiled even more of the hall's history.
Rory Macdonald oversees the latest work at Astley Hall, Chorley. Picture: Neil Cross
"Although there is a lot of work ongoing to restore the exterior of the hall, that's only part of the council's £1.1m investment.
"We also want to enhance the experience for those visiting Astley Hall so they can learn more about its history, unique collections and about those who lived and worked there.
"We look forward to sharing updates with everyone and being able to show visitors the work we've been doing when the hall reopens in the future."
Work to tweak the routes visitors will walk around the hall is also high on the agenda.
The view from the rooftops at Astley Hall as renovation work is underway
Experts have been strengthening the main staircase in the Great Hall which receives a lot of foot traffic.
By remapping the route people take, it is hoped to take the pressure off the structure of some of the busy areas.
The main entrance will move to the West Wing with a new access ramp due to be installed.
In the past, people have only been able to see into some of the hall's rooms from the doorways.
The original brickwork of Astley Hall is being revealed
Now plans include changes to this so visitors can get further into the rooms.
Although Astley Hall itself is closed while the work takes place, there is still a lot for visitors to enjoy in the grounds of the hall and the park.
To discover more about Astley Hall go to astleypark.co.uk The full story about the renovation work is published in this week's edition of the Chorley Guardian newspaper.
Astley Hall in Chorley before the work began