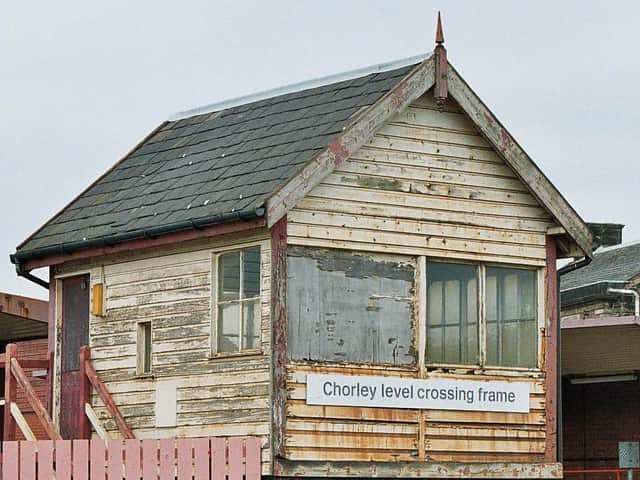 Chorley's old signal box before being removed to the Ribble Steam Railway near Preston Docks in 2007 - Picture courtesy of Stuart Clewlow
As the Chorley Guardian reflects on the 150 years since it first published, we're telling the stories of how the borough has been shaped through people, places and events.
The Chorley Guardian may be 150 years old this year but even older than that, is Chorley having a railway station.
After the famous Rainhill trials of 1829, it took a decade to bring the railway to the borough.
We're asking Chorley Guardian readers to nominate 150 reasons to celebrate Chorley to mark the Guardian's 150th birthday
Years of painstaking negotiations and surveys were carried out and the lines of today are very different to those originally considered.
It was for example, first planned to drive a line straight through the Duxbury estate and Astley Park.
However this was rejected mainly because of the sheer expense of compensating the landowners.
Chorley Railway station (though not on the site of today) was opened in December 1841 and the line from Bolton to Preston was finally finished and open for business in June 1843.
A cast iron wagon manufacturers name plate - Picture courtesy of Stuart Clewlow
A line through to Blackburn was completed in 1869.
Dotted throughout the borough was a number of crossings, goods yards and stations, although few original features remain after years of redevelopment and adaption to meet the ever-changing needs of the commuters.
The borough went on to see miles upon miles of sidings and branches run to and from the many collieries and coal yards, such as Ellerbeck, and within the town itself.
In fact, at least two railway wagon companies were established along the main line actually manufacturing carriages and wagons.
There was also of course, a railway connection into ROF Chorley and the site itself included 25 miles of track to transport materials in, around and out of the factory.
The railway system brought great changes and development to the area, not only with its visual affect on the landscape but the social changes it enabled.
Local industries benefitted from transporting goods quicker and cheaper, employees could travel from further afield, as well as visitors and traders.
If the borough of Chorley developed rapidly following the construction of the canal systems in the 1790s, it positively exploded after the introduction of the railways in the mid 1800s.
Fast forward a hundred years and the area was again carved through with the transport links of the motorways and this in itself brought about further great changes to the landscape.
We are only missing an airfield…..although it was once considered!
If you have a story you'd like to share as part of this Chorley 150 series, email [email protected]