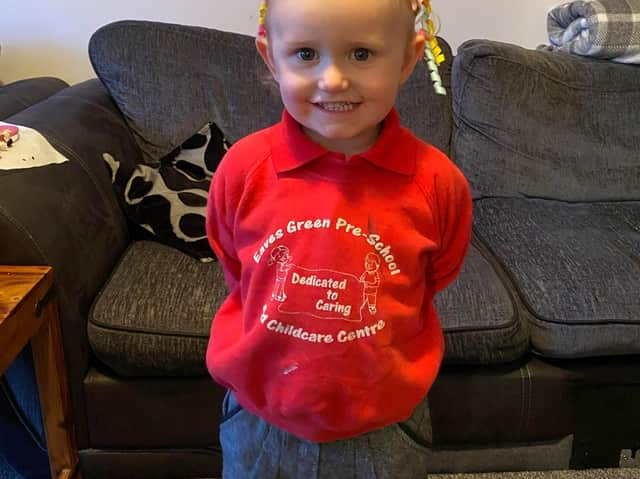 Eave Green Pre-School has raised £1,500 in a crowdfunding campaign to create a permanent tribute to little Lily-Mai.
Lily-Mai Pugh, from Chorley, passed away after becoming poorly from a rare cancer.
The tot left such an impact on the local community that her nursery, Eaves Green Pre School, based at Eaves Green community centre, has raised £1,500 in a crowdfunding campaign to create a permanent tribute.
'Lily's Place' - a special bench and plaque - will be placed in the small playground Lily loved so much, so she will always be remembered.
Lily's mum, Beth and dad, Jake, today spoke of her brave battle, which began at the start of the lockdown when she felt poorly.
Beth says: " We were told to self isolate and she seemed to be OK after a couple of weeks. In mid May she became unwell again having breathing difficulties.
"I took her to Chorley A&E, she was only seen by a triage nurse and I was told to take her home. Later that same day she had another few episodes, so I took videos and rang my doctor, who wouldn't see her but agreed to meet me in the car park and view the videos, to which she told me that it was probably viral and she'd come out with a temperature over a week or so, which Lily did so we thought nothing of it. "
But by June 2, Lily wasn't improving and Beth instinctively took her to Preston hospital, where she underwent many tests.
Lily-Mai was described as 'witty and clever' by her loving parents
Due to the pandemic visitors, including Jake, were restricted.
An X-ray showed Lily had pneumonia and she was admitted to the children's ward - however another doctor referred her to the respiratory ward at Manchester Children's Hospital after querying her symptoms.
Brave Lily and her mum made the journey by ambulance and the following day, after a CT scan, her parents were given the devastating news Lily had cancer.
On June 6 Lily was transferred to the oncology ward in Manchester and advised of the next steps - multiple tests and a biopsy.
Tragically while waiting for the results, little Lily deteriorated, starting to become less energetic and needing small amounts of oxygen.
Two weeks later she was diagnosed with pleuropulmonary blastoma.
Beth says: "Lily's consultant, Professor Brennan, was positive about the course of treatment and gave us a good outlook. Professor Brennan always reminded us to think positive throughout and was sure we had caught it relatively early based on the size."
The brave youngster started chemotherapy but two days later had a bad reaction which left her in intensive care.
Her dad was allowed in briefly to see her but had to go home again when she recovered after three days.
The nurses were worried about Lily's breathing and she was transferred to the high dependency unit as a precaution.
Over the next week the schoolgirl became increasingly tired but still watched her beloved Disney movies.
But on July 26 she deteriorated severely and had to be ventilated - a high risk due to the tumour.
Medics were not sure she would survive the anaesthetic but the procedure went well and she began strong chemotherapy.
Beth adds: " Every day was filled with anxiety and trying to remain positive, willing the chemo to work. Lily had many issues daily. The staff in ICU, nurses, doctors, consultants alike became our friends. We became used to the machines, drugs keeping Lily alive.
"Everyone explained everything to us so well and we never felt left out, we were heavily involved in everything with Lily. We had lots of meetings to discuss different options for the future but it was always said Lily was very high-risk."
Due to the ventilator machine, it was difficult for doctors to get clear images of her tumour and a highly skilled team ventilated Lily by hand for a CT scan to be performed.
Beth explains: "Unfortunately the news was not what we had hoped and prayed for.
"The tumour had not stopped growing, in fact it was larger.
"There were no other drugs available and operating was not possible as the tumour had compromised her heart.
"They said Lily could continue for a while but her organs would slowly deteriorate.
"We made the decision that we would take control back - one thing we never had with this horrible disease - and turn her ventilator off on July 14.
"We spent the afternoon with one of our favourite nurses, we played Lily's favourite music and made lots of memories to keep forever. Lots of nurses and doctors came to visit Lily on the Monday and Tuesday to say their final goodbyes, she touched so many staff members. When it was time the team made it so dignified. We held our daughter together.
"Anyone who met her was immediately drawn to her. She was so chatty, loved going to nursery and knew every single child there. She loved spending time with family and friends. She loved everything pink, Disney, playing with her toys, and was always happy to share with anyone. She was so witty and clever."
Beth, Jake and their older children Emma, 12 and brother Adam, 13, have been overwhelmed with support from the hospital, charities and Lily's nursery.
Beth says: "Lily's funeral was amazing, it truly showed how much she was loved and still is. We had around 100 people wave her off outside the church as we could only have 30 inside. It was full of balloons, rainbows and bubbles.
"When nursery told me their idea about 'Lily's Place' we were overjoyed. They are so much more than a nursery, they are a family. They have done so much for us and our family. We are so happy that Lily's memory will live on forever."