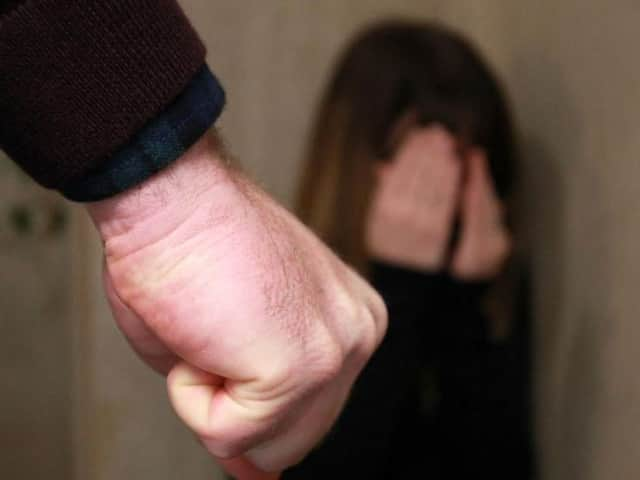 Domestic violence can affect anyone (Photo posed by models)
Reports of nationwide organisations such as The National Domestic Abuse Hotline receiving a 25% increase in calls doesn't reflect the number of calls that local grassroot support services have seen.
There are concerns from local organisations that this information may deter women from using these services, which could be a vital source of support for them.
Alex Gornall, the operations manager for the Specialist Services at Lancashire Victim Services said that they will continue their support to any victims of domestic abuse and are encouraging women to keep seeking advice among the Covid-19 pandemic.
"We are here to listen to their concerns, assess their risk and give women and men the most appropriate support available depending on their circumstances," she said.
"Recently, we have faced more challenges and had to adapt our procedures by offering our services remotely.
"But our message is the same - we want people to know there is help out there for them. We don't want people to think they can't leave their home because of the virus because sometimes, being at home can be more dangerous.
"They may feel they can't reach out, but we are urging people to ask for the advice they need during this difficult time."
Local organisations such as the Preston Domestic Violence Service (PDVS) are also continuing to be a lifeline for many victims of domestic abuse across the borough. They have been able to continue their support for those experiencing sexual and domestic abuse since being awarded a grant of £9,628 from the Community Foundation for Lancashire earlier this year.
Salma Ali has been managing the PDVS since 2019, after a battle to keep the service running for victims in Preston.
She believes that although local grassroot services might not be seeing an increase across Lancashire currently, that once lockdown restrictions are lifted, there may be a rise in demand.
"We are finding that Covid-19 is many people's main concern at the minute, and many women in domestically abusive relationships are focusing on keeping indoors, schooling their children and keeping them safe," she said.
"The way we are living has completely changed. Charities like ourselves are continuing to deliver services virtually to those who need it, as face to face meetings aren't a possibility.
"Many victims may be finding it harder to seek advice and contact us at the moment, so we are in discussions about improving our service to offer it in places where victims may be able to access, such as a supermarket."
The PDVS are using social media and mobile phone applications like Zoom, Whatsapp and Skype to stay in contact with victims who rely on their services.
"It's a challenging time for everyone, especially victims of domestic violence and people who can't access online support. We are still evaluating every individual case and the best way to deliver our services to them," she said.
Last year, an incident of domestic abuse was recorded every 16 minutes in Lancashire, accounting for 1 in 8 crimes reported.
Emily - not hear actual name, spent three years in an abusive relationship before leaving in 2017 and blocking her partner on social media to stop him contacting her.
Now, looking back on her relationship, she realised how manipulative he was and the extent of the physical and emotional abuse.
"He was lovely and quiet to everyone else, and then would get angry when it was just me and him. It all started with a punch, and then it carried on," she said.
"I lost count of how many times he cheated on me, he was a very good liar. He would try and convince me that fights between us hadn't happened and that I had made them up.
"I wasn't allowed to see my friends or family. He would hurt me until I cried, and then would start telling me it would never happen again."
Emily claims her own pleas for help were ignored and thinks women need a safe place to go if they feel trapped during lockdown.
"I tried to ask for help so many times. I told the police, my college teachers and even visited a support centre for people in abusive relationships and nobody would help me.
"They shrugged me off and didn't believe me.
"Women shouldn't feel like they are trapped and have nowhere to run to, I think maybe they need a safe place to go to if they can't go anywhere but need to get away from their partner."
Kim, another victim from Lancashire, said her ex-partner became over protective, jealous and controlling five months into their relationship.
"I was young and naive, and didn't think anything of it when he would look through my phone and make me delete boys off my social media accounts," she said.
"He began pushing me around, left me with countless bruises, cuts marks and broke my thumb one time he pushed me over.
"When I told him I was pregnant with his baby, he took the news terribly and told me not to tell anyone I was pregnant or I would regret it.
"He was manipulative and narcissistic, and began hitting me when I was breastfeeding and holding my baby."
It was the last push that Kim needed to flee the relationship and become a single mother, and claims it was the best decision she ever made.
The PDVS support all victims of domestic violence, but say the majority of people they support are women. The charity is keen to urge men to feel comfortable enough to come forward and ask for the help they need.
Other services offered by the Lancashire Victim Services include a 24-hour support line and live chat. Their website offers advice when self isolating.
If anyone feels as though themselves, or someone they know is in danger, they should always contact 999. There is a silent solution option by making a noise, tapping 55 on the keyboard and following the instructions.
Contact Preston Domestic Violence Services on 01772 201601 or visit pdvs.org.uk.
The charity can only assist residents who live in the Preston City Council area.
More information and live chat service is available from lancashirevictimservices.org. Their 24 hour service can be contacted at 0300 323 0085.