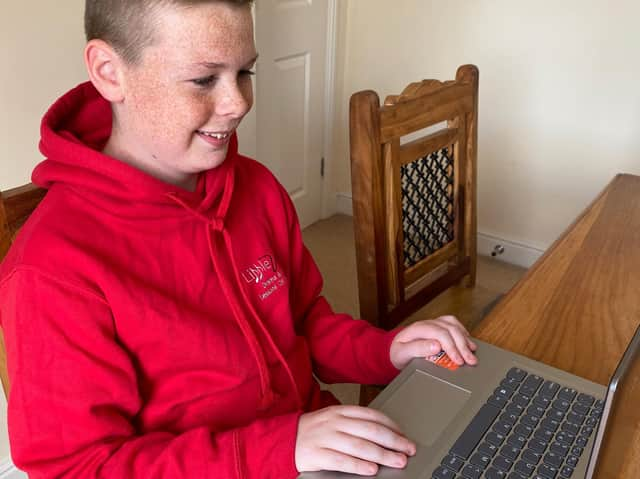 Children can take part in online workshops with Little Voices
Little Voices, a scheme that teaches lessons in drama and singing, has been keeping children engaged during lockdown with a series of free video workshops.
In aid of supporting young people who may be struggling with their mental health as a result of the Covid-19 pandemic, the lessons guide children through skills in performing arts from trained professionals.
Mum-of-two Rachel Bradshaw bought the Preston franchise in 2014, and has since welcomed the classes to nine venues across Preston, Chorley and Leyland.
"As soon as the schools closed, we wanted to begin our lessons online. It was a rush but it was important that our children were able to continue taking part in their lessons and seeing their friends" said Rachel, 41.
"It's so important for them and their mental wellbeing to have a sense of normality and structure. We wanted anyone to be able to join, not just our pupils, to make a positive change during this difficult situation."
The mental health issues that young people are facing during the lockdown have been highlighted by Childline, who announced they are offering one counselling session every five minutes on average.
One in five children in Lancashire have experienced problems with their mental health by the age of 11.
Online workshops keep children and young people active in lockdown.
The 'Little Voices' franchise have over 70 principles nationwide and have all introduced online workshops to support young people with the power of music and performing. Children across Preston, Leyland and Chorley can now take part in the video lessons to help develop their passion for the arts in lockdown.
Other locations include Lytham St Annes, Clitheroe, Blackburn, Wigan and Accrington.
"The Preston groups have also launched LVTV, a Facebook Live that we stream every day during the school holidays and then on Mondays, Tuesdays and Fridays. We incorporate singing, crafts and drama to keep them feeling positive and entertained," said Rachel, from Buckshaw Village.
"Through our workshops, we let them talk about their emotions and channel them through character and song, which is a great way for them to be open and address if they are struggling.
Singing and dancing are part of the fun with Little Voices' workshops.
"It's amazing at building their confidence because many of our students who have struggled with low moods or self esteem completely change when they get to see their friends. Their faces just light up."
Rachel now has plans to continue the free workshops after lockdown restrictions are lifted to continue giving children mental health support for families who may be struggling financially.
"Our tutors are passionate about teaching and are doing this on a voluntary basis," she said.
"They make sure they get every child involved and integrated into the call."
Families wanting to be involved in the free online workshops should email [email protected] or phone 07480 064828.