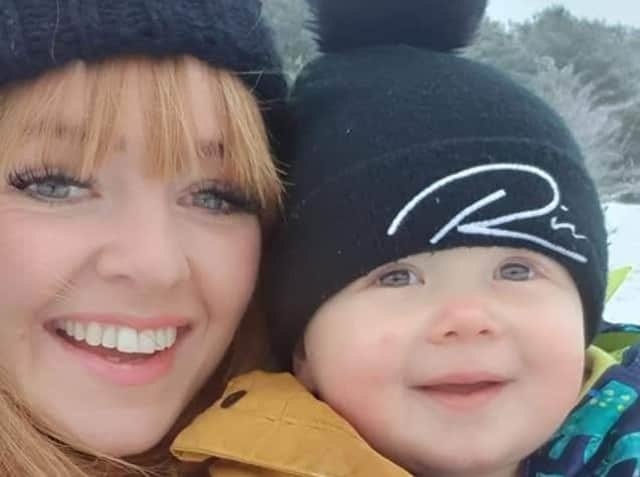 Hollie Dring found a lump when playing in bed with her 18-month-old son Theo in January
The single mum-of-one, from Fulwood, spoke of her fears that her son Theo, would "forget who she was" if she lost her battle with breast cancer after getting her diagnosis in February.
She had discovered a lump on her breast after her 18-month-old son had dived at her during a play fight, leading her to get checked, after she lost her mum to the same condition aged just 57.
Now, her three other friends - who refer to themselves as 'The Spice Girls', have set up Hollie's Dollies and have rallied round more than 200 people to battle 100k throughout this month to raise awareness of the disease and fundraise for Cancer Research UK
Hollie first feared her son would forget who she was but is now remaining positive about her recovery. Photo: Scrumptious Photography
They said they wanted to do something special for her after what friend Tara described as a "nightmare year", as along with her life-changing diagnosis, 34-year-old Hollie also had to cope with a break-up during the lockdown.
Speaking to the Post about her diagnosis, Hollie said: "In January, I found a lump when I was playing in bed with Theo. We were just watching TV and I noticed there was a hard lump on my left side.
"I do check my boobs quite often and was lucky that I had managed to catch it early. My GP told me they were concerned and I was immediately referred to the breast unit at Chorley Hospital where I was pretty much told straight away that it was breast cancer.
"When I first found out, I had instantly thought the worst and worried about dying and leaving my son Theo without a mum because he is my absolute world. It was such a huge blow to me as a single mum."
Hollie and friends Tara, Sam and Claire, the original Hollie's Dollies
The mum-of-one has remained brave-faced throughout her battle so far, as she prepares for a mastectomy this Friday, March 19.
The procedure will see doctors remove one of her breasts in a bid to eradicate her body of her tumour, before rounds of chemotherapy and radiotherapy, but she says she needs to remain strong for her son.
Her mum, Linda Dring, developed secondary breast cancer in 2012 before passing away at St Catherine's, a hospice specialising in end of life care where Hollie now works.
She added: "I have heard so many positive stories from people who are coming forward telling me they have beaten cancer to raise my spirits.
"A lot of my friends told me that they wouldn't even know where to check for cancerous lumps, which is worrying. More people need to be aware of how to check for cancer and hopefully, by raising awareness, I can help other women to prevent them having to go through this.
"Lots of people have told me I am doing well by remaining positive, but it is the best thing for me to do to look forward and stay positive about the future with my son. I can not believe how amazing the response has been to the fundraising, I am absolutely overwhelmed at the kindness of people.
"As a woman, you don't want to lose your boobs or your hair because they are what define your femininity, but I know I need to do what I have to in order to get better. Even though I am dreading it, I know I have everyone there to support me."
More than 200 volunteers have already begun walking or running part of their 100k, the equivalent to 62 miles, clocking up their miles on the Strava app.
One of the organisers and friend of 10 years Tara Nash first helped establish Hollie's Dollies, along with Claire Brome, Sam Jones and Andy Wilson before hundreds of others also volunteered to get involved with the feat.
Their efforts have already raised more than £10,000 for the Cancer Research charity.
She said: "When Hollie first got her diagnosis in February, we all felt helpless and just wanted to try and do something to make a difference. At first, we said we were just going to run the 100k in March to raise money for breast cancer awareness so that we felt we were at least helping in some way.
"We then put the information on social media asking whether people wanted to get involved and it just took off from there and really snowballed with people coming forward saying they wanted to help.
"There was such an amazing response because cancer is close to many people's hearts. It has been incredible so far and we are hoping to raise more money and awareness as the month goes on.
"Being young, having cancer doesn't come into a lot of peoples consciousness. Hollie was always aware of it because of what happened with her mum, which is difficult for her because she has already had to watch her die from this disease.
"We have really tried to be there for her and gather as much support as we can to try and make a difference because she is doing so well in staying positive for herself and her son. She truly is amazing."
And one man in particular, Martin Crowley, is aiming to complete his 100k challenge this Saturday, March 20, by running laps around Penwortham until he has completed the full length in 12 hours.
Tara and friends Claire, Sam and Andy will be on hand with refreshments outside Penwortham's Lime Bar, Liverpool Road, throughout the day whilst also collecting further donations.
This challenge will take place just a day after Hollie undergoes her mastectomy treatment, in a bid to continue raising money and awareness of the disease.
Tara added: "One of her biggest worries is adjusting to life with her new body and living with it, which we know will be hard for a young single woman.
"I am just so thankful that people are on hand to offer support and do all they can, especially during this week which will be life-changing for her."
Donations can be made to the Go Fund Me page here.
Thanks for reading. If you value what we do and are able to support us, a digital subscription is just £1 per month for the first two months. Try us today by ​clicking here.