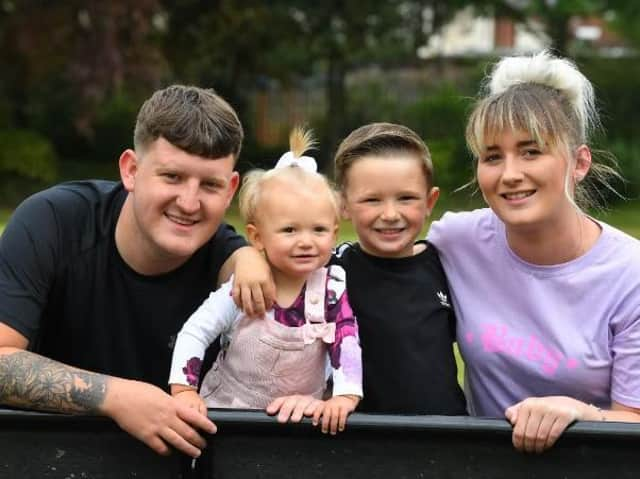 Matilda with big brother Lucas and mum and dad Beth and Jonny.
Now the one-year-old is being treated for a rare childhood cancer which was only spotted by chance in a family photograph.
Matilda's mum Beth Bretherton stared at the picture on her phone and noticed the flash reflections in Matilda's eyes were different - red in one and white in the other.
But it took her five months to convince doctors that her little girl had a problem. And that problem has now been diagnosed as retinoblastoma - a tumour at the back of her left eye.
Matilda's photo shows the tell-tale white glow in her left eye.
"It started when she was just three months old," said Beth at home in Fishwick, Preston. "I noticed a glow in her left eye. You could see it in photographs.
"I took her to the doctor's and they kept fobbing me off, saying she was OK. I kept mentioning it, but it wasn't until her eight-month check-up that they referred her to a specialist.
"We waited another two months for an appointment and on the same day we went to see them they told us: 'We can see a mass in the back of her eye. We can see a tumour. She has cancer.'
"That was the sixth of March. We'd been fighting for months and finally they said we were right. There was something wrong."
Matilda has just completed the second of six rounds of chemotherapy and is also having laser treatment.
Every month mum Beth and dad Jonny Farley face long treks to both Birmingham Children's Hospital for check-ups - where the condition was first diagnosed - and Manchester Children's Hospital where she is receiving chemotherapy treatment. As neither can drive they have to rely on Jonny's mum to take them.
"It's tough doing all that travelling, but anything to get her better," said Beth. "It will all be worth it in the end.
"After the first round of chemo the tumour had shrunk by 70 per cent. It was amazing.
"She's being so brave and, although I know the chemo is making her feel sick and not very well, she is still smiling. She always has a smile on her face.
"I can't understand how the doctors initially couldn't tell there was something wrong. I could tell. It was obvious to me there was a problem in that eye.
"It's heartbreaking because what if I hadn't spotted the signs in the photos? Who knows when it would have been diagnosed?"
As Matilda undergoes treatment her picture is being used to help publicise the telltale signs of retinoblastoma at the hospital in Birmingham.
There is also a national campaign called "Know The Glow" which highlights the condition and what parents should look for.
Matilda has a "Know The Glow" T-shirt which proclaims: "Cancer messed with the wrong girl."
Sadly the brave little girl, who celebrated her first birthday just last week, has now lost the sight in her left eye.
"She had a bit of vision, just seeing light, but with the lazer treatment that's now gone," said Beth. "Other than that she is doing really well."
The 'glow' could be an indicator of more than 20 different eye diseases and conditions.
To check your child take photographs with the flash switched on and the red eye reduction switched off.
Look for the 'glow' which is a white, opaque, or yellow spot in the pupil of one or both eyes.
If you see the 'glow' once be alert. But if you see it twice in the same eye then consult your doctor, or opthalmologist.
And advise other parents to check too.