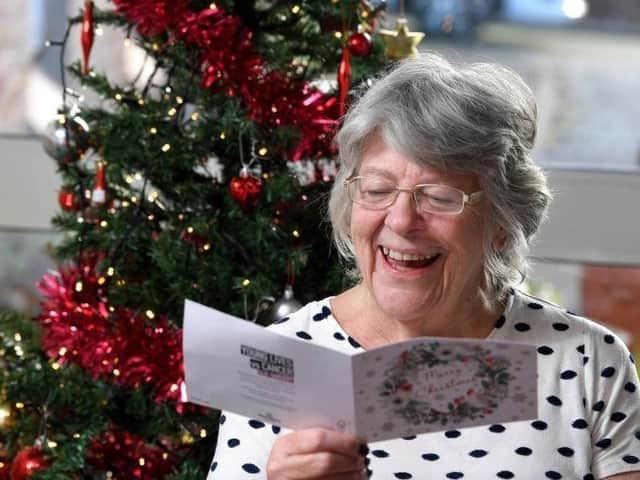 Grove House resident Maureen Finley reads one of her Christmas cards
We are simply asking readers to send an extra card to any of the care homes taking part in the scheme, and they will pass on your messages of goodwill to residents.
The initiative, organised by Lancashire County Council and the Lancashire and South Cumbria Integrated Care System, has been running since 2018 but is being relaunched in time for Christmas - after what has been a tough year for many care home residents, with visiting restrictions during the pandemic.
More than 100 homes across the county have signed up to take part.
Jennifer Camps, senior manager at Grove House care home in Adlington, says the initiative makes many lonely residents feel as though they are a 'part of something'.
With no coronavirus cases since the start of the pandemic, Grove House, Chorley, has offered families the chance to see their loved ones through drive-throughs and window visits.
Jennifer said: "Loneliness has always been a problem in care homes, but with the pandemic, it has increased ten-fold. Internally, we have worked with our management and the staff who have all worked really hard and thought outside the box about ways to help residents with their feelings of loneliness and isolation.
"In the past, I have seen residents receive so many different Cards for Kindness and the feedback has been amazing. They love having physical cards in their hands that they can keep because it is so much more personal than a phone call.
Resident Audrey Ellison with care manager Kirsty Durham, celebrating the new cards for kindness scheme
"They don't often get written letters and for those who don't get many visits, it is a way of making them feel wanted and a part of something. It has made so many of our residents emotional and makes a huge difference to their lives.
"This year and over the next few months, the initiative is even more important as people tend to feel lonely at what is supposed to be the happiest time of the year. Christmas enhances loneliness for many people, even though they spend their days sat surrounded by people.
"I know it will make a positive difference in many people's day to day lives."
Alongside assistant managers Barry and Amadu, residents at Grove House have also had the opportunity to video call family members on a regular basis, giving them a chance to speak to their loved ones from all over the world.
Cards can be sent through the scheme to help battle isolation in care homes
For 200,000 older people in the UK, they haven't even had the chance to speak to any friends or family for over a month.
The campaign has been praised by Coun Graham Gooch, cabinet member for adult services in Lancashire, who said the Cards for Kindness scheme would bring a 'world of difference' to someone's life this year.
He said: "The restrictions that are in place to stop the spread of coronavirus and reduce the pressure on our NHS are crucial.
"However, they will mean that many more of the 11,000 people who live in the county's 425 care homes have massively reduced opportunities for visitors and won't be able to go home and stay with relatives.
"Other residents don't have friends or family to visit them at all.
"Staff in the care homes do an absolutely superb job organising activities to ensure communities who live there can socialise and connect to each other.
"However, despite their best efforts, the problem of loneliness and isolation is set to be an even bigger issue this year because of the pandemic. This is a massive problem as figures show that living in isolation can have a similar effect on our health than smoking 15 cigarettes per day.
"We'd encourage everyone to help us combat loneliness by sending a card to their local care home. It will also be a great way to show appreciation to care home staff for their hard work too. Just one extra card will only take a couple of minutes to write, but make a world of difference to someone's life this Christmas."
The scheme aims to spark conversation, encouraging residents to talk to one another about the Christmas cards they have received.
Feelings of loneliness and isolation in elderly people have become more prominent amid the coronavirus pandemic as visiting has been restricted.
Participants can write on one of the card templates, attach a stamp and then choose a local participating care home to send it to.
The Cards for Kindness project was first set up by Lancashire County Council in summer 2018 as a response to increasing feelings of loneliness in care homes, and Christmas is being seen as the ideal time of year for more people to reach out.
Talib Yaseen, executive director of transformation from the Lancashire and South Cumbria Integrated Care System, said: "Cards for Kindness is a wonderful way to spread a little Christmas spirit by sending a festive greetings card to people living in our local care homes.
"We know that Cards for Kindness has made a big impact in previous years with residents and staff telling us how much joy the cards have brought and how they have sparked nostalgic conversations about Christmases gone by."
A spokesperson from Age UK Lancashire said: "We think this initiative is a wonderful idea and encourage people to get involved. As part of our work in the community, we know how damaging loneliness can be for a person's mental and physical wellbeing.
"Many older people live alone and have little or no contact with any one else, so to receive cards from people would mean the world".
• You can find participating care homes online here.
Thanks for reading. If you value what we do and are able to support us, a digital subscription is just £1 per month for the first two months. Try us today by ​clicking here