Royal Preston and Chorley hospitals criticised for telling staff they "should not" take a Covid test
The trust that runs the Royal Preston and Chorley and South Ribble hospitals has said that it will clarify its position on Covid testing for staff after sending a memo stating that most of its employees "should not" take a test - even if they have symptoms of the virus.
Watch more of our videos on Shots! 
and live on Freeview channel 276
Visit Shots! now
National guidance for healthcare staff was last updated at the end of March, when a previous policy of testing all those with signs of a respiratory infection was scrapped.
Since then, only those whose job mostly involves "providing direct inpatient care to severely immunosuppressed patients" have to take a test - if they have respiratory symptoms and either a high temperature or do not feel well enough to go to work.
However, according to guidance issued by the UK Health Security Agency (UKHSA), other staff in that position are "not required" to test for Covid. They are advised to stay at home until their temperature, if it was high, has returned to normal or until they no longer feel unwell.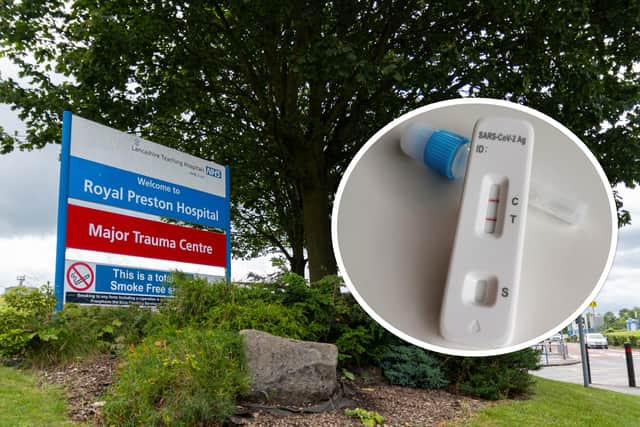 Lancashire Teaching Hospitals NHS Foundation Trust (LTH) says that its message to staff reflects the UKHSA advice, but the wording used sparked concern on social media that staff were not able to decide for themselves whether to test if they thought they might have Covid. The trust was also mocked for issuing guidance about what staff should do if they had taken an "inadvertent test" which returned a positive result.
The memo states, in bold type, that while staff based on the Ribblesdale cancer ward and ward 25, which sometimes accommodates kidney transplant patients, are "expected" to test if they have symptoms - as the Lancashire Post first revealed back in August - "staff who do not work on these wards should not test themselves for COVID-19".
The internal communication was leaked to University of Leeds virologist Professor Stephen Griffin, who posted it on X - formerly Twitter - and said that it made him "despair".
"No-one else should test, including [staff in the] outpatient oncology clinic, cancer treatment centre, and dialysis," commented Professor Griffin, who is also the co-chair of the advisory body Independent SAGE. He added that it amounted to clinically extremely vulnerable people being "overlooked entirely".
Other responses were similarly scathing, describing the message as "negligent" and "reckless", while one asked: "How can they tell staff not to test?" - a sentiment shared by several others.
Stressing that she was not speaking in an official capacity, a Royal Preston emergency medic, Dr. Kirsty Challen, posted that trusts were "being pushed very hard not to deviate" from national guidance, "particularly if it might impact on elective recovery [reducing the waiting list]".
The Post understands that the LTH policy on which the memo was based does more accurately reflect the UKHSA phrasing about staff not being "required" to take a test - rather than prohibiting them from doing so. It is believed that such an order would be unenforceable in any case, because the personal circumstances of staff members - such as caring for vulnerable relatives - might necessitate them to test.
Staff who have taken a test in spite of the LTH policy - and turn out to be Covid-positive - are referred to national guidance for the general public which states that they should "try to stay at home and avoid contact with other people for five days".
However, the use of the word "inadvertent" led to ridicule online. "How do you inadvertently test?" one comment began. "[By] accidentally falling on the test stick?"
Another contrasted the restrictions on daily life at the height of the pandemic, with the message to LTH staff: "This is what loss of freedom really looks like: healthcare workers checking their health status becomes an 'inadvertent' breach of their employer's policy."
The Post understands that the reference to inadvertent tests was intended for those staff who take a swab because they are not aware of the policy on not needing to do so.
A Lancashire Teaching Hospitals spokesperson said: "The trust's staff testing and self-isolation procedure is in line with UKHSA guidance with patient facing colleagues - who do not work on Ward 25 or Ribblesdale - no longer required to perform lateral flow device (LFD) tests.
"Whilst the policy is clear, we recognise the accompanying messaging on this occasion should have been more precise and we will re-issue the full guidance to colleagues."
As of 15th October, there were 12 inpatients with Covid across LTH - not all of whom had been admitted because of the virus itself.
It understood that NHS trusts are not funded to purchase Covid testing kits and those that are needed are procured through the UKHSA.
Although the acute phase of a Covid infection is much less serious for most people than it was in the pre-vaccine era, groups including the clinically vulnerable, immunocompromised and older ages are still at greater risk. The government's Immunisation Green Book notes that the risk of "poorer outcomes" from Covid infection increases dramatically with age in both healthy adults and [those] with underlying health conditions".
Acroos England, in the week ending 29th September, Covid was mentioned as a cause of death on the death certificates of 203 people, down from the thousands seen per week at various earlier points in the pandemic, but higher than during the summer months this year.
Even younger, healthier people who contract Covid - with or without symptoms - could still suffer adverse consequences after their apparent recovery.
The World Hospital Organisation (WHO) estimates that between 10 and 20 percent of those infected with the virus go on to suffer the debilitating collection of symptoms known as Long Covid, which can include extreme fatigue and cognitive problems. In July, a study by researchers at King's College London concluded that the so-called "brain fog" associated with Long Covid is akin to ageing by a decade.
According to the Office for National Statistics, at the start of this year, an estimated two million people were experiencing self-reported Long Covid - classed as symptoms which had continued for at least four weeks after confirmed or suspected infection.
Of those, 61 percent had been infected at least one year earlier - with symptoms ongoing ever since - while for 35 percent of Long Covid sufferers, their infection had come at least two years previously. The WHO estimates that as many as 1 in 30 Europeans are finding it difficult "to return to normal life." because of the condition.
Notwithstanding the chance of developing Long Covid, studies have also shown an increased risk of heart attack and stroke after Covid infection.
The Post asked both the Department for Health and Social Care and the UKHSA for comment on the national guidance on staff Covid testing and whether patients should be able to expect that reasonable steps had been taken to ensure that staff treating them do not have Covid - but both declined to do so.