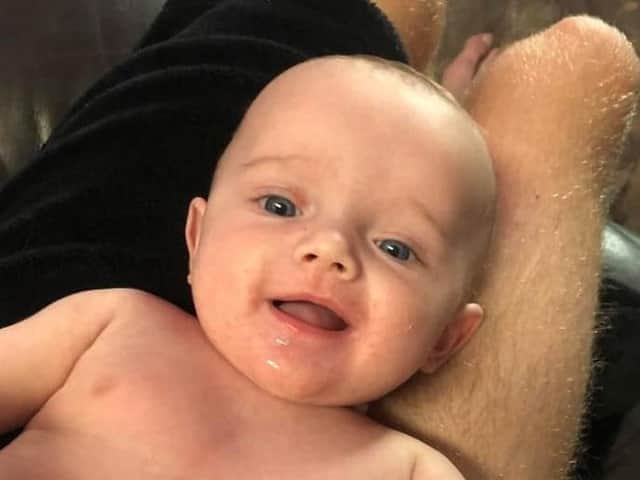 Isaac Newton
Alan Wilson voiced his alarm after an inquest heard how Isaac Newton, four months, died after his sleeping dad Brooklyn Newton, who had been smoking cannabis, rolled on top of him in the double bed they were sharing.
It was the fourth tragedy of its kind to be heard in the resort's coroner's court this year alone.
Mr Wilson said in an official report to Bury's Tory MP Jo Churchill, who was responsible for a major review into babies' and children's health over the summer: "In my opinion, action should be taken to prevent future deaths and I believe you have the power to take such action."
Isaac was found dead, face down on the bed he had shared with his dad and older sister, on the morning of Sunday, September 6 last year.
At an inquest held at Blackpool town hall earlier this year, Mr Wilson ruled the youngster's death an accident, while police said no crime had been committed.
"This was the fourth inquest I have concluded in 2020 that has involved a child that has died whilst sleeping in or on the parental bed," Mr Wilson told Ms Churchill.
"All of these inquests have involved relatively young parents. In three of the four ... alcohol or drug use was a factor.
"Although guidance is provided to new parents about the dangers posed by an unsafe sleeping environment, I am concerned that the message is not being appreciated and/or followed."
Mr Wilson said Isaac's mum, Holly Hamer, of Crompton Court, Preston, admitted being told by health visitors about the risks of co-sleeping "but had clearly chosen not to follow the advice despite having a suitable cot available for him to sleep in".
He said Isaac's dad, Brooklyn, "told the court he could not recall receiving such advice" and "gave the impression that he was unaware that the child may be at risk were he to use cannabis before co-sleeping and, in preferring to co-sleep rather than place Isaac in the cot, he was following the practice he knew Isaac's mother adopted when Isaac was residing with her."
He added: "Isaac's mother gave the impression that Isaac was not in jeopardy when he slept with her and his half-sibling during the night because there was no risk that she would unknowingly roll over during the night.
"I am concerned that, despite efforts to provide guidance to parents about what may amount to an unsafe sleeping environment, some parents are continuing to place often very young children at risk."
Isaac was put in bed, surrounded by pillows, at around 10pm on Saturday, September 5, 2019, his inquest was told.
His dad checked on him and gave him a bottle two-and-a-half hours later before smoking cannabis and getting into bed between his two children at around 1.30am.
At 5.55am, he awoke to find Isaac lifeless and attempted CPR. The baby was taken to Blackpool Victoria Hospital, where he was pronounced dead.
Dr Alison Armor, who carried out a postmortem, told the hearing: "The cause of death was due to overlaying, which occurs when the weight of an adult body overlays the body of the baby.
"The effects of this on the chest and abdominal region prevent the baby from breathing.
"It is an unsafe practice to take a child into a double bed with an adult. This is exacerbated by the presence of alcohol or drugs.
"In this case, the cannabis levels in the father indicated previous cannabis use."
Det Insp James Lillystone, from Lancashire Police, told the inquest the level of drugs in Brooklyn's system was too low to warrant criminal charges.
He said: "Brooklyn was very distressed and shaking but did not appear impaired.
"When Brooklyn was told his son had died, he replied, 'It's my fault'."
The Department of Health and Social Care said it was "considering carefully the concerns raised by the coroner" and would "respond by the agreed deadline".