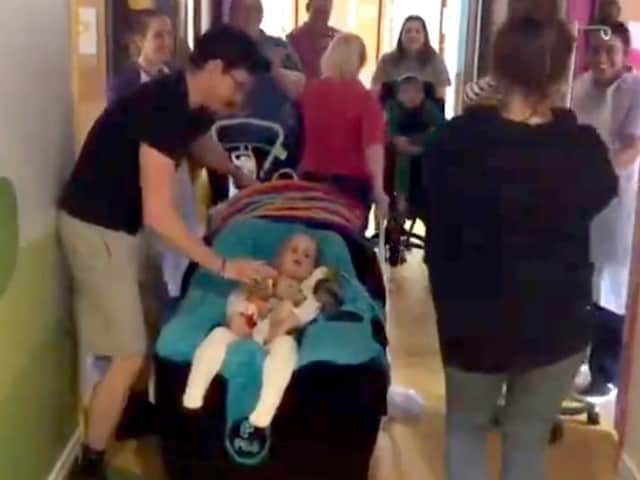 A still from the hospice's own Dance4Derian video
Get your dancing shoes on - Derian House needs your help.
The children's hospice based in Astley Village, Chorley, has launched a new social media fundraising campaign to help plug a £250,000 black hole caused by the cancellation of fundraisers because of the coronavirus outbreak.
The idea is people record themselves dancing to Dolly Parton's 9 to 5 song, upload the video to a social media site such as Facebook, nominate three other people to do it, and donate to Derian House.
"It's an idea we've come up with since we've had all of our spring and summer fundraisers cancelled", said Caroline Taylor, communications manager for the hospice.
"It's left us with a massive funding gap, and we needed to come up with new, fun ways of raising cash that you can do at home with the kids. This is our version of the Ice Bucket Challenge and we're hoping it goes viral in the same way.
"Dolly has been tagged in our Twitter video of people dancing at the hospice, so fingers crossed she sees it and takes part. That would be amazing."
The song 9 to 5 was chosen to reflect that the hospice isn't just providing care 9-5.
Derian House needs more than £4million every year to provide its services, yet less than 10 per cent of this comes from government funding.
What to post and how to donate:
Derian want you to use this message when posting:
This is my #Dance4Derian.
I've made my donation to Derian House Children's Hospice and nominate FRIEND'S NAMES. You have 24 hours!
Text DANCE4DERIAN to 70085 to donate £3 and help seriously ill children make the most of every moment.
Texts cost £3 plus one standard rate message.
Derian House care isn't just 9 to 5, it's 24/7, 365 days a year for families of seriously ill children in need (green heart emoji