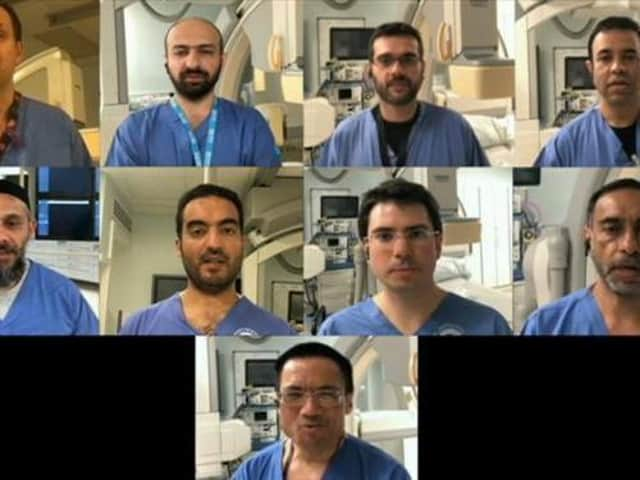 The team of Lancashire Cardiac Centre doctors who have been making videos to raise awareness of the importance of seeking treatment for heart attacks during the pandemic.
But this is not how it looks for everyone who experiences the potentially fatal condition, with some people even dismissing their symptoms as something less serious, like indigestion, according to a Preston doctor.
This has become even more alarming for Blackpool Victoria Hospital medics, with many people putting off going to A&E and instead mistaking their symptoms for Covid-19.
In fact, the hospital saw a 33% drop in people seeking treatment for heart attacks in the first six weeks since the pandemic hit the UK, according to consultant cardiologist Bilal Patel.
The Preston doctor says those who did come to hospital with the condition were waiting on average twice as long before seeking medical advice compared with the same period last year. The medic is part of a Lancashire Cardiac Centre team, who published the data in the American Heart Journal. And a spokesman for Lancashire Teaching Hospitals NHS Foundation Trust said the situation was mirrored in Preston and Chorley.
The 46-year-old added: "People are off work so perhaps have less stress, and there's less pollution. So it could be because of that."
The consultants also believe people could be scared of catching Covid-19 at hospital, do not want to burden the NHS, or that they or medical professionals have put their symptoms down to the virus.
"But the non-coronavirus death rate has gone up. It's worrying that people are coming to hospital later. People had sometimes been waiting several hours or sometimes two or three days," Dr Patel said.
Dr Bilal Patel, a consultant cardiologist from Preston, says some 33% fewer people sought treatment for heart attacks at the hospital in the first six weeks since the pandemic hit the UK.
"Heart attacks are dangerous - they can kill people. Don't ignore any symptoms.
"Waiting to seek treatment can have a serious impact. It can cause severe damage to the heart, which may be permanent.
"If you're having a major heart attack, you need immediate treatment."
Symptoms can include: feeling clammy with breathlessness; and pain or heaviness in the chest in one or both arms and into the jaw or neck.
"Lots of people think you have to have severe pain but sometimes it's just a tightness or an ache, or you might just have breathlessness," said Dr Patel.
"Even before the pandemic, one big problem with heart attacks is that people put them down to something else, like indigestion.
"If you have a heaviness or ache in the chest going into the jaw that doesn't go away in a few minutes, call 999."
The dad-of-four, who works in the hospital's Lancashire Cardiac Centre, added: "Before the pandemic, we were normally a very busy centre, treating a wide range of cardiac problems, like major and minor heart attacks.
"Now we're working very differently to help protect staff and patients. We're mainly doing just emergency and urgent work. Staff are wearing PPE, social distancing and screening patients for Covid-19, and we're reducing the number of people in one area at a time.
"Our clinics are also working differently. Most are normally working face-to-face but are now running virtually or via video link, with a view to restarting the normal clinics in the next few weeks and months."
The trend revealed in the Blackpool Hospital study - the first in the UK to be published - is a "global problem", according to the consultant. He adds that Europe published similar findings a week later.
"People with cardiac problems are not getting to hospital in time. It's occurring everywhere in the world," he said.
That's why a team of eight cardiology consultants and registrars at the Lancashire Cardiac Centre have made videos to raise awareness about the issue and have shared them on social media.
"We're spreading the message all over," Dr Patel added.
"Generally, in the NHS, we have an international team. The benefit is that we're able to put the message out there in different languages: German; Greek; Polish; French; Urdu; Punjabi; Pushto; Bengali; Cantonese; Arabic; and English."
The mission has proved so successful - with the video posted on the hospital's Facebook page amassing more than 50,000 views - that the trend has swung in the other direction.
"Now the number of people coming in with heart attacks is scary," Dr Patel said.
"We've seen a big increase. We're not sure why as we don't have the data yet. But perhaps it's because there's now more awareness.
And although many more people are coming into the hospital, he added: "We're still finding that they are waiting a long time to do so, so it's really important not to delay getting help."