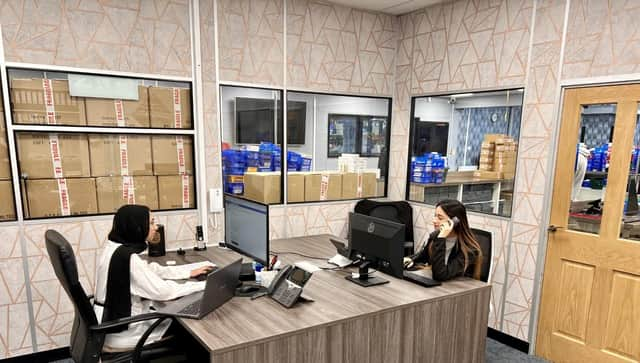 Just a call away - the friendly customer services team is always there to help
Giving value for money, being a friendly voice at the end of the phone and dispensing sound advice as well as medicines has helped this company grow and expand, building a loyal customer following which extends beyond its Preston base. But it has its local customers and community at the heart of everything it does.
During the pandemic it served over a million customers and right now is helping keep people safe with lateral flow tests for sale at £1.99 – as opposed to £5.99 from some of the main high-street pharmacies. And right now it is offering customers 10% discount off their orders, by quoting LEP.
AYP Healthcare works like any regular pharmacy, except instead of going into a shop you can order what you need at the click of a computer keyboard, or over the phone speaking to one of the customer services team.
Inside the warehouse at this Preston-based online pharmacy
As Umar Nakhuda, business development manager, explains: "We have a customer service team that deal with all of the enquiries. Sometimes a pharmacist will answer questions and emails too and deal with any questions or issues that need their input.
"People tend to know what they want when they come to us, but if they do not we can talk to them and advise them. And, if people are on medication for a specific time we know how long they should take that medication for, and so we ensure they are not going to go over the prescribed limit or time."
The business was started by Zaakir Badat, a local lad from Deepdale, who began his career in telesales for a local pharmacy. He started his own business in 2017 after moving to London.
The business was started by Zaakir Badat, a local lad from Deepdale, who began his career in telesales for a local pharmacy.
Zaakir said: "At the time, the pharmacy focused on providing NHS prescription medicine to care homes in the London area. I quickly realised that the shift towards online is something we should focus on."
And in February 2018 he started selling online on places like Amazon and eBay and 18 months later moved the online operations to Preston. AYP Healthcare now has large modern premises at Lancaster Road and has recently invested in a robot system to pick and pack orders from the warehouse, which should be operating this summer.
The pandemic accelerated the growth of the company and Zaakir launched the website even sooner than planned, to help those customers who needed access to medication but who were shielding.
Working for the community
From a small business to serving over 1million customers during the pandemic AYP Healthcare has gone from strength-to-strength in the past five years.
They served over 1 million customers throughout the Covid pandemic, and also provided free hand sanitiser, water bottles and oximeters to community groups and charities around Preston.
The company seized the opportunity to expand, but not to take advantage of the pandemic, as Umar explains.
"Everyone hiked their prices up, but we wanted to still be competitive. Yes, prices did go up as costs went up for us, but not by a ridiculous amount," he says. With NHS supplies of lateral flow tests dwindling, some pharmacists were charging £5.99 a pack but AYP held their prices at £1.99.
"We are there for the people. We do get a lot of customers who struggle to cope with ordering online so the customer services team is always there to help them," he said.
Get 10% off your next order with the special code in this article
To find out more visit the website or contact them online here or call the customer services team on 0800 0487211. Lines are open between 9am and 5pm Monday to Friday and Noon to 4pm at the weekend.
To get 10% discount off your order please quote: LEP