North West Cancer Research tells women: "Don't Keep 'Em Crossed"
Women across the region are being urged to attend their cervical screening appointments as part of North West Cancer Research's latest campaign, Don't Keep 'Em Crossed.
Watch more of our videos on Shots! 
and live on Freeview channel 276
Visit Shots! now
Launched today, the initiative shines a spotlight on how cervical cancer rates across the North West are 19% higher than the rest of England.
However, despite the stark difference to the national average, almost 1 in 3 women aged 25-49 do not attend their screening appointments when invited, meaning potentially harmful changes may not be picked up and treated early.
North West Cancer Research is now urging young women to get screened and avoid leaving their risk of developing the disease to chance.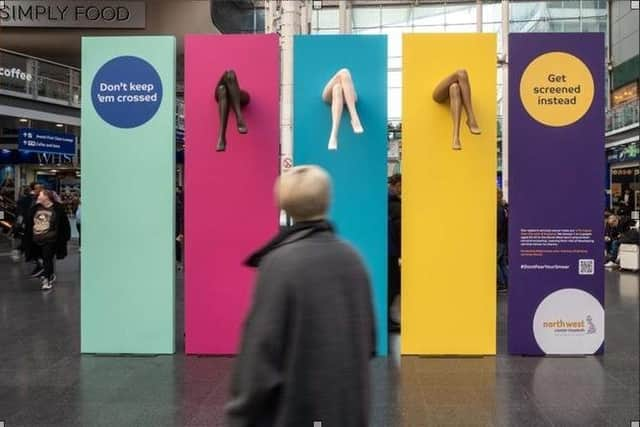 Among those supporting the charity's campaign is Charlotte Ellwood, from Lancaster, whose smear test detected changes in her cervix, meaning she was able to undergo a potentially life-saving surgery to remove pre-cancerous cells.
Charlotte, now 34, was about to celebrate her 30th birthday when she received the news that her routine cervical screening appointment had identified abnormal cells.
She said: "I almost didn't attend my smear test that day for a number of reasons – it was close to Christmas and I had lots going on, the weather was rubbish and I was finding so many excuses not to go.
"But, I realised I was being silly and could certainly squeeze in my appointment. I am so glad I made that decision.
"I was initially told I had abnormal cells so was invited back for a colposcopy, which is where they examine the cervix in greater detail and take a biopsy. Because the changes to my cervix were severe, they wanted to operate straightaway so, just a couple of weeks later, I underwent surgery. Thankfully, they were able to remove the harmful cells and I needed no further treatment."
Charlotte is now passionate about encouraging other women to attend their screening appointments.
She added: "I always think to myself 'what if I didn't go to my appointment' – it doesn't bear thinking about what could've been, especially as the test may well have saved my life.
"Going for your smear test can be uncomfortable and it's of course very intimate, but for a few minutes of discomfort and perhaps a little bit of embarrassment, it's more than worth it."
As part of the Don't Keep 'Em Crossed campaign, the charity took over Manchester Piccadilly train station today (14 November) with the installation of crossed mannequin legs, encouraging passers-by to stop and think about when their next cervical screening is.
All women and people with cervixes aged 25-64 are invited to cervical screenings – or smear test – to check the health of their cervix and a small sample of cells are taken for analysis.
Depending on the results, you may be asked to attend for further tests or, if all samples are normal, then they will be invited for their next smear test in three years' time.
Alison Burton, Lead Practice Nurse, Great Homer Street Medical Centre in Liverpool, said: "Lots of young women often put off their cervical screening for a number of reasons, including feeling embarrassed, scared that it may hurt, or a fear of results.
"It's important to remember that the screening is not a test for cancer – it is a way to prevent cancer from developing, so it's crucial that you go along and get screened when you're invited. Regular testing means that any changes are spotted early rather than leaving it all to chance and crossing your fingers for the best!"
In the North West, cervical cancer rates are 19% higher than rest of England, with Lancashire recording the region's highest rate – 32% higher than the national average.
Such inequalities are at the core of the work being done by North West Cancer Research.
Alastair Richards, CEO of North West Cancer Research, said: "Overall, our rates of cervical cancer are higher than the average in England and this needs to be addressed. It is a pattern we see across a number of different cancers in terms of our region having higher rates and, while there is no 'quick fix' to this issue, there are ways individuals can protect themselves.
"For example, attending your cervical screening stands you in good stead to prevent cancer from developing and, if needed, undergo appropriate treatment early, therefore increasing your chances of survival.
"That's what our latest campaign is all about – don't leave it to chance, get screened instead."