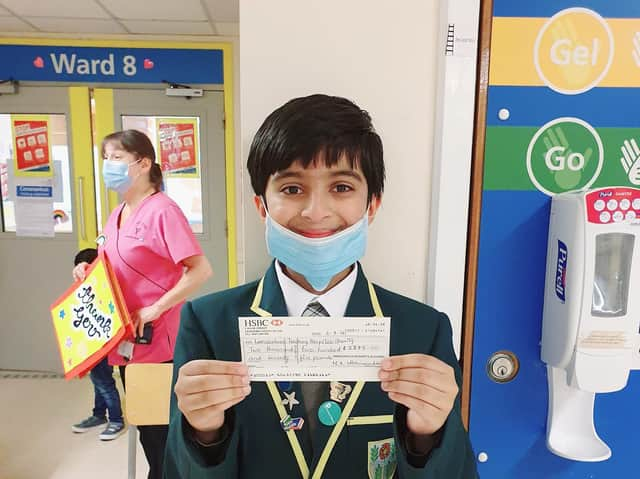 Ahaan pictured with the bumper cheque he presented to the hospital
Ahaan Ram's book raised £2,275 of donations from family, friends and wellwishers.
Ahaan who attends Ashbridge school, Hutton, called his book simply 'Ahaan's First Book of Stories'
It contained a poem as well as four stories and numerous illustrations by Ahaan and was designed by family friend Samit Nayi. The book was published online earlier this year.
Soically distanced photocall for talented Ahaan at the hospital
The bumper cheque has now been presented to the paediatrics department at the Royal Preston Hospital.
His mum Abhi said: "The hospital staff were very grateful and presented Ahaan a thank you card signed by all of the staff. They praised Ahaan for his effort and for being philanthropic at a very young age."
When the book was first published online Ahaan wrote on the JustGiving page his family created : "During these challenging times, we all have to stay strong and defeat the Coronavirus monster ... I would like to raise funds for the great heroes of the NHS, who are at this moment fighting the Covid 19 Pandemic."
Dr Geraldine Skailes, medical director at Lancashire Teaching Hospitals NHS Foundation Trust, said :"We were so touched to hear of Ahaan's fundraising efforts and to write a book at his age is incredible. We want to say a huge thank you to Ahaan for choosing to donate the money to our children's ward, and we have no doubts that it will really make a difference.
Part of the cover of Ahaan's book
"Ahaan's family must be very proud of him, and we are very grateful that such generous people are a part of our community."
Paula Wilson, head of charities and fundraising at the Trust, added: "What a remarkable and gifted young man. To show such kindness at such a young age is something to be extremely proud of. Ahaan, we think you are a superstar – thank you."
Abhi's husband Dr Praful Ram is a GP at the Briarwood Medical Centre on Blackpool Road, Ashton. He said :"When Ahaan was shortlisted in a competition with the BBC for his fantastic writing abilities, we knew he was talented. We are so proud of him not only for his abilities at such a young age, but for his compassion for other children of his age and his generosity towards the NHS. We hope the money he raised will put a smile on the faces of the children and young people on the unit at Royal Preston Hospital."
The couple's youngest son Reyansh has also enjoyed Ahaan's stories.
Ahaan and his family with a thank you card
Now the family plan to publish a printed version of the book, adding photos of the cheque presentation to the back cover.
Abhi, manager of Preston's Gujarat Hindu Society Centre and a renowned teacher of Indian classical dance, said any further proceeds raised by book sales would also be donated to charity.
Dragon illustration by Ahaan which appears in the book
A reminder that the book was also a thank you for the NHS's ongoing work. This illustration also appeared in the book.
Mountains illustration by Ahaan