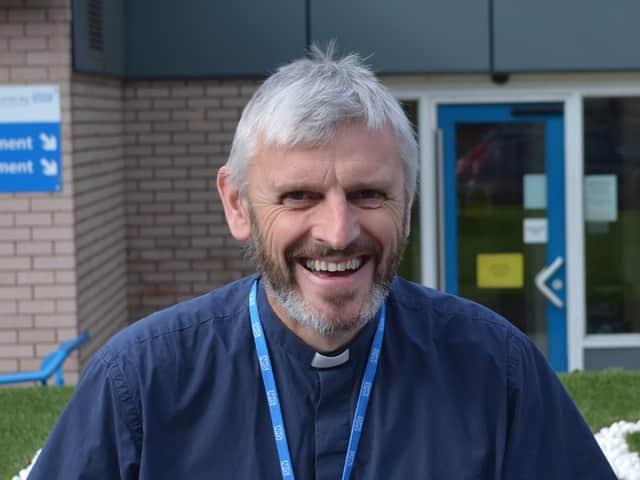 Revd Ian Dewar, lead chaplain at Morecambe Bay Hospitals Trust.
Ian, who is from Lancaster and went to Ripley St Thomas High School in the city, officially took up his new post as Lead Chaplain on May 1 after recovering from coronavirus (Covid-19).
The experience of having coronavirus (Covid-19) gave Ian a fascinating talking point, swapping notes with staff who'd had a similar experience.
Ian said: "It was great to be back and seeking, wherever possible, to help meet the spiritual needs of people."
In his usual enthusiastic way, he has returned to work and taken up his new post with great passion, humour and dedication.
As the world has been wrestling with the pandemic, Ian feels it is an appropriate time to ask some penetrating questions about what it means to be human and what is important in life. He also believes in taking action to deal with issues such as food poverty and climate change.
Ian trained at Durham University and was in parish life for 13 years before working in Chaplaincy.
He said: "I'm fascinated to be the new Lead Chaplain of the Trust at a time when there are sharper and deeper questions about the NHS, our health and how we are living our lives.
"It is a great privilege to step up to the role. I spent a number of years working with the previous Lead Chaplain, Rev Jane Tyrer and Debbie Wilde, our Chaplain at Furness General Hospital in Barrow, raising the profile of the Chaplaincy Team through our annual Health Festival and other initiatives.
"Now Debbie and I have a chance to build on that work. We are also in the process of looking for a new site Lead Chaplain for the Westmorland General Hospital in Kendal.
"One of my aims is to rethink traditional Chaplaincy. I think we need to create a safe place for 'slow questions'. Very often people have little time for looking at the big questions. Sometimes just asking the questions is important. There need to be much deeper conversations between the health care world and the wider community. What we need most just now is space for meaningful conversations.
"The people we see through our Chaplaincy work very often don't have any form of spiritual background. More often than not we are talking with non-religious people. This has been particularly true during the coronavirus pandemic.
"The pandemic has raised issues of mortality with many people; big questions about life and death have come to the surface. Often in life people don't have a religion - there is just a life to be led. Chaplaincy is the art of filling in the gaps. When people come into the hospital, often they have all sorts of questions buzzing around. We can help people to find their meaning in life.
"I believe everyone needs to have a reason for living. A lot of people talk about longevity but I would ask: 'what is a meaningful life?' I am also interested in looking at the impact of the imagination on wellbeing."
Ian is involved with many community initiatives and is a Trustee of Morecambe Bay Food Bank. He is also a member of 'Sustainable Food City', a groups of activists who look at how food is grown, ecology, the sustainability of food and providing high quality food for people on low incomes. He also has his own allotment in Lancaster and is a keen cyclist.
Ian said: "The public need to recognise that the primary mover in their health is themselves. Chaplaincy feeds into this but, in my view, the most important question for people to ask themselves is: 'What is my reason for getting up in the morning?'
"Tragedy is part of life and life is full of challenges. As Chaplains sometimes we can help people find connections that will help to make their life work better."
Ian is planning to increase the number of 'Death Cafes' at the Trust where people such as Junior doctors, nurses and the public can find out more about end of life care and planning.
For the past few years Ian has worked with partners to stage annual Health Festivals for the Morecambe Bay area. This year, due to the coronavirus pandemic, Ian is planning a 'Virtual Health Festival' including 'podcasts' on a wide range of fascinating health-related subjects. Ian's Chaplaincy work also involves organising remembrance services and working in partnership with volunteers and the wider faith communities across Morecambe Bay.
Ian added: "I was amazed to discover recently that 7.1 million people per week listen to podcasts. In a world where we have soundbite media and social media echo chambers, I wonder if people are turning to podcasts as a space for thoughtful debate without point scoring."