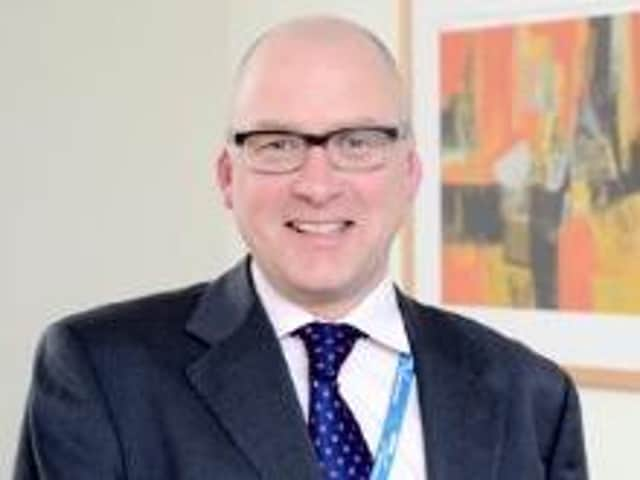 Chris Adcock has been appointed the new director of finance at UHMBT.
Chris will be joining the Trust in mid-February 2021 from the Sussex NHS Clinical Commissioners where he is currently the Chief Finance Officer for the three Sussex CCGs, and Finance lead for the Sussex Health and Care Partnership Integrated Care System.
The appointment follows the announcement in August this year that Keith Griffiths, UHMBT's current Director of Finance, was leaving the Trust to take up a new post with Cheshire and Merseyside Health and Care Partnership.
Chris brings a wealth of experience to UHMBT, having worked in the NHS for 23 years. Prior to his current role, he was Chief Financial Officer at Portsmouth Hospitals NHS Trust for just under four years, following his roles as Director of Finance for the University Hospitals of North Midlands NHS Trust, and Chief Financial Officer for Brighton and Sussex University Hospitals NHS Trust.
Chris Adcock, said: "I am delighted to have been offered the opportunity to join UHMBT to work with colleagues and system partners to take forward the exciting hospital and integrated care agendas at such an important and challenging time.
"Having grown up in the North West and with family living in the area, I have spent a great deal of time around Morecambe Bay over the years and I am looking forward to relocating and having the opportunity to make a contribution to the communities served by our hospitals and health and care services.
"I have had a positive and warm welcome from everyone I have met during my preparations for this role and in all conversations since, and I am very much looking forward to taking up my new role early in the New Year."
Alongside the Director of Finance role, Chris will also be splitting the Deputy Chief Executive role with Sue Smith, Executive Chief Nurse; with Chris focusing on system reform and integrated partnership work.
Aaron Cummins, Chief Executive, UHMBT, said: "We are delighted that Chris will be joining UHMBT at the beginning of next year. His breadth of experience working at an Executive level in other large, complex acute NHS hospitals will make him a valuable addition to our team.
"Chris' most recent system leadership role means that he also has in-depth experience and understanding of how individual parts of the health and care system can truly work together for the benefits of local communities, and that is exactly what we are trying to achieve with Bay Health and Care Partners.