Leyland delivery drivers will be trained in CPR by the British Heart Foundation
Leyland delivery drivers will be offered life-saving training by the British Heart Foundation (BHF) so they can respond to emergencies when out on the road.
Saturday, 1st February 2020, 11:45 am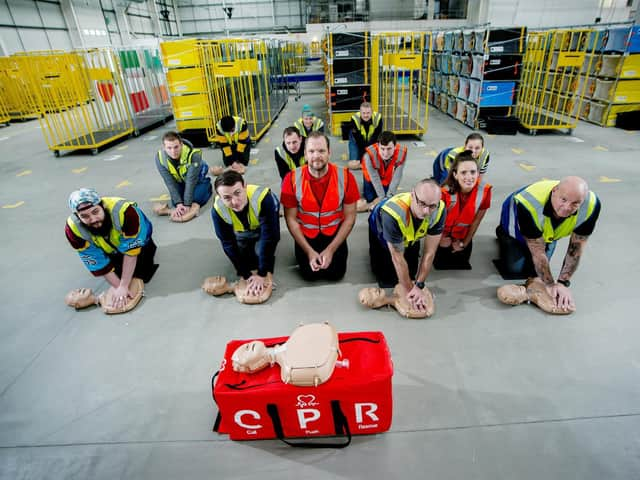 British Heart Foundation trainers Gareth and Helen, teaching Amazon workers how to become CPR trainers
The BHF is working in partnership with Amazon and more than 100 independent delivery companies across the UK, to offer free CPR training to thousands of drivers.
Amazon instructors at the Leyland Delivery Station have been trained in CPR and they will pass on their new skills to drivers during 30 minute CPR training sessions.
Jacob West, director of Healthcare Innovation at the British Heart Foundation, said: "It's vital that CPR training reaches as many people as possible.
"Drivers deliver Amazon orders to millions of people across the UK every year.
"This unique partnership will mean we put potential life-savers on every street in the UK.
The training was welcomed by Simon Richards, a driver delivering Amazon parcels on behalf of Flow Logistics, who came to the rescue of an unconscious pedestrian on a street in Poulton-le-Fylde, Lancashire.
Simon said: "My military training just kicked in so luckily I knew what to do but I am thrilled that Amazon is supporting the CPR training programme so that other drivers are better able to react if they see someone in distress."
Kerry-Anne Lawlor, country director of Amazon Logistics, added: "We regularly see examples where drivers delivering Amazon parcels for our delivery service partners act selflessly when out on their routes to help others.
"We are delighted to work with the British Heart Foundation to be able to offer drivers lifesaving CPR training to respond in emergency situations."