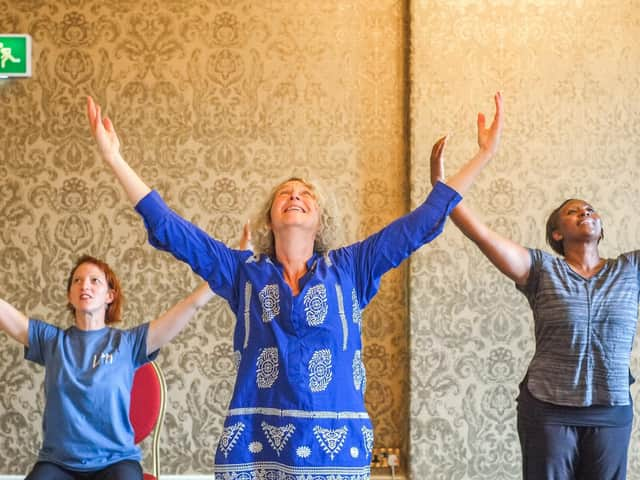 Helen Gould, Mel Brierley, and Elisa Macauley, who run the Dance & Parkinson's classes
Harnessing the power of dance is what they do.
Since September last year, the company has been running their Dance & Parkinson's pilot programme, with movement therapy offering people living with the neurological condition significant physiological benefits on top of the boost to mental and physical well-being provided by regular exercise.
The sessions have been a huge hit.
Filming of an online Dance & Parkinson's class.
Helen Gould, co-founder of LPM Dance, has specialist training in movement therapy and has been teaching classes for people living with Parkinson's since 2014 when she was selected to deliver classes for English National Ballet.
The sessions are also run by Mel Brierley, a founder member of Dance for Parkinson's Partnership UK, and Elisa Macauley, who has 20 years' experience as a dance artist, tutor, lecturer, and choreographer.
"Myself, Mel, and Elisa are passionate about working with people who live with neurological conditions," says Helen, who is 37. "For people with Parkinson's, movement fluidity, motor control, and coordination are a challenge and dance supports those facets and can actually improve symptoms.
The benefits are short-term - dance is not a cure - but we see the improvement first-hand during the sessions."
Elisa Macauley demonstrates a movement
With the in-person Dance & Parkinson's sessions prior to lockdown also providing an invaluable social angle, the trio were desperate to maintain their momentum when the pandemic struck.
Now offering online Zoom classes, YouTube sessions, and DVDs copies of the workouts, they have made sure that provision is still there for those who most need it.
"The pilot was really successful and we were really aware that the people who we engaged with and who we'd established fantastic relationships with were more vulnerable to social isolation in lockdown, so we wanted a way to engage with them," says Helen. "We tried to cover as many bases as possible as online classes and Zoom could potentially be a barrier to some people who are unfamiliar with digital technology.
"What Zoom does offer is that social aspect to an extent, which is a crucial part of the classes," she adds. "It's become a lifeline to a lot of people."
LPM Dance's online drop-in Dance & Parkinson's sessions - held on Tuesday and Friday at 2pm - have attracted a broad demographic of participants from those recently diagnosed with the condition to those who have been living with it for 15 years. People as far and wide as Manchester, Newcastle, and London have also been able to join in.
"We're delighted with how going online has gone: not only have we had people who previously attended classes in person joining in, but we've also had other from across the country taking part as well," says Helen. "We've broadened our reach and we have a lot of fun."
Lauded by Parkinson's EQUIP, a charity which aims to support arts and sports activities for people with the condition, the sessions have been transformative in lockdown.
"Although using Zoom means you are not actually meeting people face-to-face, at least I'm getting regular exercise and feel better for it," says Anne Bradshaw from Fleetwood. Val Higginbotham from Preston agrees. "It's so good to be back, especially as I need it so much," she says. "I seem to have lockdown in my muscles!"
Helen says that the sessions are all about providing a safe space for people. "We're communicative and work with people to make sure everything is person-centred, which has been integral," she explains. "It's remarkably encouraging to be involved in something like this because the classes make a difference to people's well-being."