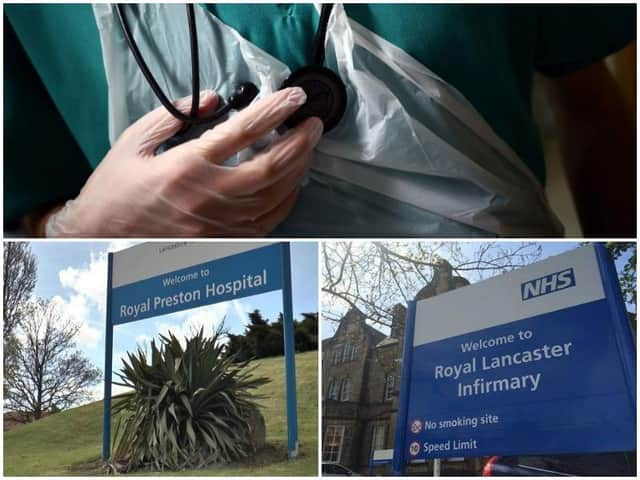 The Prime Minister has announced plans to replaced the Royal Preston Hospital and Royal Lancaster Infirmary - but questions remain about what the new services will look like
Included on the list is the "planned replacement" of the hospitals in Preston and Lancaster, throwing up the possibility of a new 'super-hospital' covering a vast area of the county.
Here's what we know so far about the proposal.
In his announcement, the Prime Minister revealed funding would be provided for the "planned replacement of Royal Preston and Royal Lancaster Infirmary, where subject to consultation either a single or two hospitals with appropriate re-provision of 3 community urgent care hubs and 3 out of hospital hubs will result".
It means residents will get to have their say on what could be a massive shake-up of NHS services in Lancashire before a final decision is made.
Exactly what options will be laid before them remains to be seen, but the government expects a so-called super-hospital will be among them.
Where will the hospital(s) be?
This is likely to prove controversial, particularly if the single hospital route is pursued.
The Local Democracy Reporting Service understands that a location around Garstang was briefly under consideration for a super-hospital in recent years.
Previous discussions over the location of a site to merge facilities currently based in Preston and Chorley had looked at land previously earmarked for an Ikea store at Cuerden - however that now looks set for other uses.
But the inclusion of Lancaster in discussions potentially complicates matters further. South Lakes MP Tim Farron has warned patients in South Cumbria who currently use the Royal Lancaster Infirmary could be left having to travel much further for treatment.
Likewise, Chorley MP Sir Lindsay Hoyle said a super-hospital could be "good or bad" for his constituents, depending on where it is built.
The Prime Minister said the whole package - for 40 hospitals - came to a total of £3.7bn. There is no word yet on how that sum will be divided.
Questions have already been raised over whether the funding will be enough for what is clearly an ambitious plan to revolutionise the NHS.
British Medical Association council chair Dr Chaand Nagpaul said: "While new money towards hospitals is welcome, given that only £1.6bn of money in this announcement is new money, there are serious questions over how this will actually stretch to 40 hospitals."
A blueprint for a super hospital in central Lancashire, drawn up in 2016, put the price tag for such a project at £569m, suggesting that the region may have to receive a disproportionately large share of the government's pledged £3.7bn if it were to be allocated enough to construct a single-site facility.
The Lancashire plans are part of the second phase of the Government's health infrastructure plan, meaning any new facilities would not be completed until the second half of the decade.
The 25 schemes included in phase two are scheduled for between 2025 and 2030.
What are the hospitals saying about the announcement?
Last month, Lancashire Teaching Hospitals and University Hospitals of Morecambe Bay – which operates the Royal Lancaster Infirmary and other facilities - confirmed the two trusts were working together to develop a business case for a new-build hospital, using £10m of "seed funding" allocated by the government for that purpose.
However, in a joint statement responding to the latest government announcement, a spokesperson said that nothing had been finalised at this stage.
It said: "No plans have been created for the future structure of any of the five hospitals (Preston, Chorley, Lancaster, Kendal and Barrow) and, as publicly stated last month, both trusts are committed to working with local people to develop and create any future plans.
"It's long been recognised that there is a need for local health services to be delivered in a better and more accessible way for the local communities we service, so we are pleased to receive this commitment to our future plans, which will be developed and consulted upon with local people before progressing."
Typically, with major projects, the devil is in the detail.
Investment in facilities has been welcomed - but there is a hint of caution from some Lancashire MPs while so much has yet to be finalised.
Preston's Labour MP Sir Mark Hendrick said: "Until we know exactly how much money will be allocated and whether it will be for one super hospital or two hospitals, there is actually little to get excited about."
Conservative MP for South Ribble Katherine Fletcher said she believed the plans were about "replacing the Royal Preston, not moving it further north than where it is now". She added: "So creating a new hospital on an accessible site will be amazing."
And Chorley MP Sir Lindsay Hoyle said the town must be considered if any services are relocated.
"If they go ahead and build (the new hospital) north of Preston somewhere, then at Chorley, we would want a 24-hour A&E and more trauma support - because we would be so disadvantaged by having a new hospital even further away than the Royal Preston is now," he added.
Online reaction to the story from Post readers has been mixed, with some welcoming the plans while others are wary of being left having to travel further for treatment.
Hospital chiefs in Lancashire have confirmed they are working on plans for replacing the hospitals.
They say plans will be developed over the next 12 months, with the aim of producing "outline initial proposals" that will be go to public consultation towards the end of 2021 before any final decision is made.