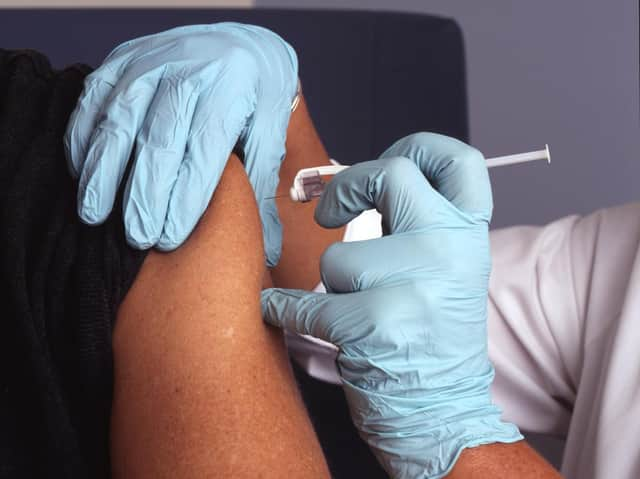 Demand has been high for the flu vaccine in Lancashire this year
Early demand for the jabs has been high this year, because of concern about the risk posed by contracting flu and coronavirus at the same time – meaning supplies have run low in some areas.
However, the most vulnerable groups who are entitled to be vaccinated for free have been assured that it will be available to them before the flu season traditionally starts in December.
Lancashire NHS bosses addressed the issue after a Lancashire County Council cabinet meeting heard that some people were sourcing the vaccine privately after being unable to get a dose from their GP or pharmacy.
"People have started to hunt around for where they can go to get a vaccine," explained deputy Labour opposition group leader - and nurse - John Fillis.
"There have been reports that people have [been told] that they can't get on the waiting list to get one, but if they pay to go privately, they can then get the vaccine done.
"If this is actually going on, it's a very serious problem.
"We have set out our priorities about who should be vaccinated first and there are good clinical reasons [for that] - and yet they're not getting it unless they pay an extra £10 or £15," County Cllr Fillis said.
The free vaccine is available to various groups, including all over 65s, those with certain health conditions and pregnant women.
This year, it will also be open to healthy 50-64-year-olds, but they are likely to be offered it only once the priority groups have received their injections.
A spokesperson for Lancashire and South Cumbria integrated care system (ICS) said: "Overall, there is enough flu vaccine for everyone who is eligible to get vaccinated before the flu season starts, which is usually in December.
"This year, early demand for flu vaccine has been higher than usual, this has meant that a lot of people have been able to get vaccinated. However, some people have not been able to get vaccinated straight away as some GP practices and pharmacies have used their early supplies of flu vaccine, due to the level of demand.
"Anyone who is eligible and hasn't been able to get a vaccination yet will still be able to have it before flu season starts.
"If you are pregnant, you can ask your maternity provider for the free flu vaccine."
A message on the department for health and social care (DHSC) website acknowledges that even people in at-risk categories may have been forced to wait for their jab this year.
Flu vaccine is delivered to GP practices, pharmacies and other services in batches between September and December each year.
There are different vaccines available targeted at different age ranges, according to the DHSC.
AM I ELIGIBLE FOR FLU VACCINE?
The department for health and social care says that you can get a free flu vaccine if you:
***are 65 years old and over (including those aged 65 by 31 March 2021)
***have certain health conditions
***live with someone who is on the NHS Shielded Patient List
***receive a carer's allowance
***are the main carer of an older or disabled person who may be at risk if you get sick.
Children aged 2 to 11 on 31st August, 2020 are also eligible for the flu vaccine (with 2- and 3-year-olds offered it in GP surgeries and school-aged children offered it in school).
You can get the flu vaccine at your GP surgery or a pharmacy if you're a health and social care worker employed by a:
***registered residential care or nursing home
***registered homecare organisation
You can also get the flu vaccine at your GP surgery or a pharmacy if you provide health or social care through direct payments or personal health budgets.
This year, the free flu vaccine will be offered to healthy 50- to 64-year-olds later in the season. People in this age bracket with a health condition that makes them more at risk from flu will be offered it sooner.