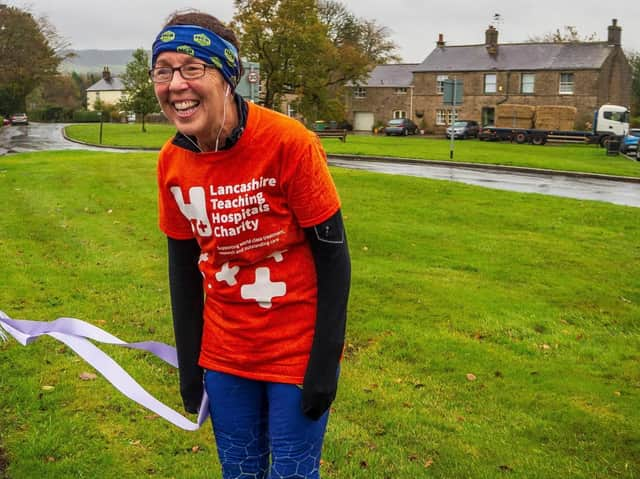 Helen completed the challenging feat in 103 days
Inglewhite resident Helen took on the mammoth challenge after a number of marathons and half marathons she had entered and trained for were cancelled due to the coronavirus pandemic.
She has raised more than £500 towards supporting the research team so far.
Helen said: "I have always loved running and I never do things by halves, so I decided I wanted to do something positive and entered the virtual challenge with a company called End to End.
Local friends and neighbours came out to show their support for Helen
"I successfully ran the distance from Land's End to John O'Groats, but did it in my familiar surroundings – every day and in all kinds of weather. I ran around 50 or 60 miles per week and completed the challenge in 103 days, coming 97th out of around 3700 walkers and runners. I'm really proud to say I finished injury free.
"I chose the Research team at Royal Preston Hospital because of Alison, the daughter of a friend, who works there, and her daughter Katie, who works on the frontline. I hope the money helps them to continue to make developments in finding treatments for coronavirus, and I wish them all the very best."
Although depending on the route, the distance between Land's End to John O'Groats is 603 miles (970km) as a straight line between the two locations.
Paul Brown, Head of Research and Innovation at Lancashire Teaching Hospitals NHS Foundation Trust, said: "This is wonderful. On behalf of the Research team here at Royal Preston Hospital, I'd like to say a huge thank you to Helen for her incredible efforts to fundraise for us.
"As a runner, I know this is no mean feat, and for Helen to complete such a famously difficult challenge in support of our team is just fantastic.
"Our Research team are working around the clock to find and develop new treatments, and we currently have more than 1700 patients recruited onto Covid-19 research trials since the start of the pandemic.
"This money will go a long way in supporting us to continue this work for patients and staff."
Helen has received ongoing support from the Lancashire Teaching Hospitals Charity team throughout her challenge.
Roya Armstrong, Fundraising Coordinator at Lancashire Teaching Hospitals NHS Foundation Trust, said: "We were delighted to hear Helen had chosen to support our charity with her fundraising, and it's not often we get supporters doing this kind of mileage.
"As a team, we facilitate a wide range of fundraising, such as support for staff wellbeing, state of the art equipment and facilities – anything that will help to improve things within our organisation both for our patients and our staff.
"Research is a vital part of what we do as Trust and we are proud to be able to develop these charitable links with our fantastic Research department as we do for so many other parts of the Trust."
Helen's JustGiving page is still live and donations can be made here.
The Lancashire Post is more reliant than ever on you taking out a digital subscription to support our journalism. For unlimited access to Lancashire news and information online, you can subscribe here: https://www.lep.co.uk/subscriptions