How to stay safe while coming out of lockdown: Tips from a GP
With restrictions set to be eased from 4th July, many of us will be looking forward to enjoying a meal or a tipple in our favourite pub, or spending time with family and friends at their houses.
Watch more of our videos on Shots! 
and live on Freeview channel 276
Visit Shots! now
But with speculation circulating that eased restrictions could lead to a second wave, many people may also be cautious and wondering what extra measures they can take as they get back to normality, and ensure they stay healthy and infection-free.
We talked to Treated.com Clinical Lead, Dr Daniel Atkinson, to find out what people can do to lower their risk of infection when getting back to social normality.
Choose a window seat at a restaurant or pub, if you can't sit outside. 'We know that the virus is more fragile outdoors than it is inside, and the risk of transmission outdoors is comparatively very low. So sit outside or by a large open window if you can. But be prepared for these seats to be in high demand.'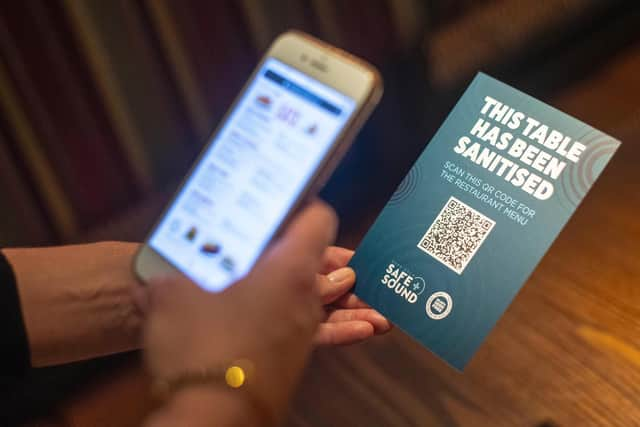 Order off the menu over the buffet or salad bar. 'Restaurants may forego offering a buffet or salad bar service initially. Still, if it comes down to a choice between a buffet and ordering off the menu, right now you're in lower risk territory with the latter, because you're avoiding a queue and not touching shared food-serving implements.'
Avoid platters and finger food. 'It's thought that the risk of transmission through food isn't very high. But sharing implements and huddling around a table to pick at a platter does make social distancing harder, and when we eat finger food we may tend to touch surfaces then touch our faces more (which is a route of transmission). So if you're going to eat with people from other households, it's better to stick to individual portions.'
Pay with plastic. 'Probably the easiest thing you can do to make your visit safer. Coins and notes tend to pass through a lot of hands as they circulate, and the more hands they pass through the higher the likelihood is that they come into contact with the virus. So by paying with a debit or credit, you're doing everyone a favour.'
Don't drink too much. 'It's understandable that many of us will want to go out and let loose, and have a few drinks. There are already plenty of reasons why you should keep your alcohol intake within sensible limits, and the risk of coronavirus presents even more reasons. Namely, you'll need the bathroom more (the more you have to touch communal surfaces, the greater the risk of infection) and your inhibitions will be lower (and you'll be less likely to be cautious).
Following stories around large numbers of people gathering on beaches this week, Dr Atkinson also offered some guidance on how to enjoy a visit to the coast but stay safe.
Look for beaches in lesser known areas. 'As we've seen, the main resorts tend to get crowded because they're the easiest to access by car and everyone knows about them. People might also think that, because a beach area is so large, there's going to be more space for them and it will be easier to social distance. So a lesser known beach a few miles further along the coast from the main pier or promenade is probably going to be less busy (and easier for you to observe social distancing guidelines).'
Don't go on peak days. 'The beach is going to be busier at weekends, and it's going to be much busier on warmer days. It's not going to be the best experience on days with heavy rain. However going to the beach when the weather is mild and temperate (as opposed to overtly warm and sunny), is still going to be a pleasant (and likely less busy) activity. For now, it's probably better to use a visit to the beach to take in the view and the sea air rather than as a sun-bathing opportunity.'
Apply sun protection. 'It's thought that the risk of sunburn on sunnier days is probably higher at the moment than it is normally. Because there's been less traffic on the road due to lockdown and not as much pollution around, UV rays are stronger. As ever, apply sunscreen if you're going out into sunny weather, and reapply every couple of hours.'