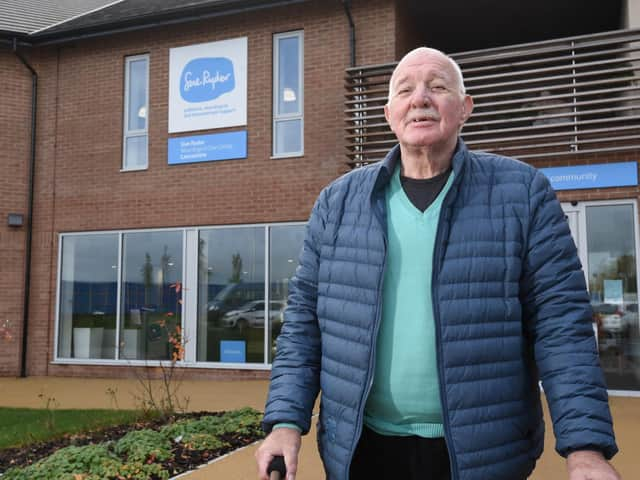 Barry Whaite at Sue Ryder centre in Fuwlood
But their £12m Neurological Care Centre in Fulwood opened its door to its first patients earlier this year - and thanks to the hard work of all involved, it's helping to improve the lives of 26 residents with serious neurological health conditions.
The Post ran a Sponsor a Star campaign last year, which brought in more than £7,000 from reader donations to help kit out the centre with equipment.
Residents of the now closed Sue Ryder home at Cuerden Hall, Bamber Bridge were moved in over two days on April 20 and 21. The first rehabilitation patient Barry Whaite arrived at the end of April.
Sue Ryder Neurological Care Centre in Fulwood. Barry Whaite with wife Ann and daughter Sharon
Terry said: "It's been a challenge. I think I've been blessed with a truly fantastic team that's been wrapped round this project. For 18 months we planned the move, (then) several weeks before we were put into lockdown with Covid-19 - things became even more of a challenge. We had individualised moving plans for very client."
At Cuerden Hall care was provided for those with life limiting conditions needing long term complex nursing care. The new centre continues to offer that care on its first and second floor with 26 people in residence now.
Terry said: "We've had a real ambition to offer services across the whole neurological pathway from early diagnosis. On the ground floor we have rehabilitation. That can be for people who have an acute onset or a brain injury or going forward it could be people who have had a condition for a number of years and had a small deterioration, they just need a few weeks to get on their feet. It's that opportunity to keep people more independent."
The ground floor rehabilitation unit currently has 12 clients and the centre also boasts a remedial gymnasium, a rehabilitation kitchen and a hydrotherapy pool, as well as four bungalows on site , which are used by those starting to prepare to go home. Terry said: "They can have the option of three to four weeks in the bungalows with a family member and just experience that half way place."
For the centre's first patient, life changed forever one day in February this year.
75-year-old Barry Whaite from Lea, Preston, had been on a four- day holiday with his daughter and son-in- law to Anglesey.
Two days after his return, he found himself on the floor, unable to get up.
He said: "I couldn't move anything but my head. That was the only thing I could move."
After two days in the Royal Preston Hospital, a lumbar puncture and other tests the diagnosis came through of Guillain-Barré syndrome.
He said: "I'd been in good health. That's the first time I've ever been in a hospital. Your life just disappears in front of you."
The Prestonian said he was advised his condition was linked to a chest infection. In Guillain-Barré syndrome, which can develop after an infection, your immune system mistakenly attacks and damages nerves.
Barry said: "Your nerves are getting eaten away. It's very rare, about one in 100,000 people in this country are affected - but trust me to get it!
"It just takes your life away completely because you can't do anything. You can't use your hands or anything. I can't feel my feet now but we're getting there slowly."
After leaving hospital he was moved to a local care home where, he said,: "I was at the point of giving up".
He then spent some time at home, with a hoist and hospital bed provided, before he was offered a rehabilitation place at the brand new Sue Ryder Neurological Centre. In Fulwood. He was its first rehabilitation client.
He said: "My daughter and my wife pushed me into going. I didn't want to go. When I went there I was a grumpy old man for at least a fortnight ... They were really good, they were patient."
There were testing days as he struggled with what he regarded as the indignity of having to be hoisted on to a lavatory, but then his condition began to change.
Barry recalled: "They got me to roll over to left and right I had to put my hands up in the air and knees in the air and practise that for a while."
A member of staff was there to encourage him: "Then she got me to sit up, which wasn't very nice because I kept falling forward. I couldn't get my balance at all. But I persevered with that and then the physio came in and had a go at getting me to walk...believe me they got me to walk."
He remembers being encouraged to tackle new challenges including personal care. Similarly when he first tried to stand he could manage only a couple of seconds, before falling back "like a bag of potatoes" and being caught by the physio.
But those seconds had a dramatic effect on Barry: "I knew then I could do it. That gave me the inspiration. Slowly but surely with all their help I got to stand and walking."
The fact that his rehabilitation coincided with the Covid-19 pandemic meant Barry could have no face to face visitors and had to rely on an IPad for communications with his family. But in the last three or four weeks he was a resident there, wife Ann said they were at last able to speak to him directly with Barry remaining indoors while they were allowed to sit outside in the grounds - but just for one precious hour a week. Ann said: "Sue Ryder have been excellent. We wouldn't be here without them."
After 15 weeks, Barry left on August 5, able to walk with sticks for short distance.
He said: "All of them at Sue Ryder not just the physicians, even the catering, they were excellent. I could not praise them enough. I would like to say they've been excellent."
He acknowledges his journey has been demanding both physically and psychologically.
Carers now visit morning and evening to help Barry.
He's ready for a long haul and said: "It can take up to the to three years to get back to where you were before."
His life has changed but his story is also a beacon of hope that people can be rehabilitated to live in their own homes with the help of all at this remarkable centre.
The Lancashire Post is more reliant than ever on you taking out a digital subscription to support our journalism. For unlimited access to Lancashire news and information online, you can subscribe here: https://www.lep.co.uk/subscriptions