Heart Attack: Symptoms and lifesaving first aid tips
Every year, countless lives are lost to heart attacks, many of which could be saved with swift intervention. In an effort to reduce these numbers, Glasgow First Aid Courses has launched an initiative to educate the public on heart attack warning signs and the crucial first aid measures that can make all the difference.
Watch more of our videos on Shots! 
and live on Freeview channel 276
Visit Shots! now
Recognising the symptoms of a heart attack early and knowing the first aid steps can be the difference between life and death.
Glasgow First Aid Courses, one of the city's leading providers of certified first aid training, is raising awareness on this crucial subject. The expert at the forefront of this initiative is Mark McShane, a renowned First Aid Trainer at the institution.
Recognising the Symptoms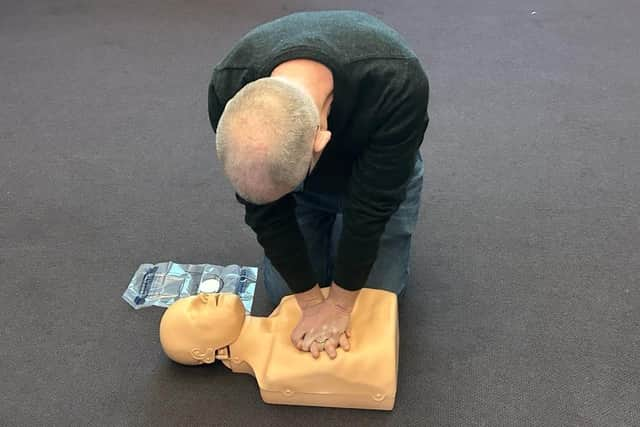 Heart attack symptoms can vary, but the most common signs include:
Chest pain or discomfort, often described as a tightness, pressure, or squeezing sensation.
Shortness of breath, even if no chest pain is present.
Pain or discomfort in the arms, neck, jaw, stomach, or back.
Lightheadedness, nausea, or cold sweats.
"It's imperative that people understand that these symptoms can present themselves differently in every individual," warns Mark McShane. "Not everyone experiences the 'classic' chest pain. In fact, some might only have minor symptoms or none at all, especially in the case of women, the elderly, and people with diabetes."
Lifesaving First Aid Tips
If someone suspects a heart attack:
Call 999 Immediately: "Every minute counts. Do not hesitate, even if you're unsure," advises McShane.
Keep the Person Calm: Have them sit down and try to stay relaxed. If they are conscious, offer them an aspirin (unless allergic or advised otherwise), which can help thin the blood.
CPR: If the person becomes unresponsive and stops breathing, begin CPR. Push hard and fast in the centre of the chest at a rate of 100-120 compressions per minute. If trained, provide rescue breaths after every 30 compressions.
Use a Defibrillator: If available, use an automated external defibrillator (AED) following its voice prompts.
"Early intervention is the key," McShane emphasises. "Recognising the signs and offering immediate aid can increase survival rates significantly."
Glasgow First Aid Courses encourages everyone to seek formal training to better prepare for medical emergencies. They offer a range of courses, including CPR and AED training, to empower individuals and professionals alike.