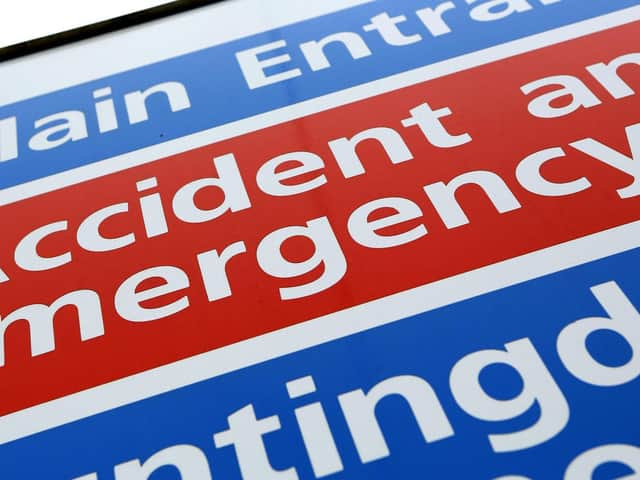 Lancashire Teaching Hospitals Trust A&E patients seen quicker as visits dip
It comes after the NHS voiced fears people who need emergency care are avoiding hospitals due to Covid-19.
The health service says staff have worked hard to ensure non-coronavirus related treatment is available during the pandemic, and has urged those who need help to seek it.
The median time between someone's arrival at A&E and their treatment was 53 minutes at Lancashire Teaching Hospitals NHS Foundation Trust in March, according to NHS Digital data.
This was 24 minutes less than the same month a year previously, when the figure stood at 77. However, attendances where patients left without treatment are not included in the figures.
The median is the middle of a range of figures, meaning it will not be skewed by very low or high values.Falling wait times came as A&E attendances at the trust also dropped by seven per cent over the period.
This followed the pattern across England as a whole, where the median wait dropped from 65 to 44 minutes as recorded attendances dropped by 26 per cent to 1.2 million.
A Lancashire Teaching Hospitals NHS Foundation Trust spokesman said: "There was a noticeable drop in numbers of people attending our A&E over the last two months, just as there has been nationally.
"The Trust have been proactive in creating public campaigns to highlight the importance of attending A&E as usual if people have symptoms which require assessment / treatment including chest pains, stroke or cancer.
"There have been high profile campaigns on TV, both locally and nationally and in the press and on local radio stations across our region. The message remains that we are open for business and if you have symptoms that you would usually attend A&E with then please attend."
The plummet in A&E visit numbers in recent months has led to concerns that people who need medical help are avoiding hospitals through fear of catching the coronavirus, or not wanting to burden the health service.
Dr Cliff Mann, NHS national clinical director for urgent and emergency care, said most reductions were for lower risk conditions, such as sprains, minor wounds and alcohol-related issues.
"But we are also worried that within that reduction in attendances were people who should have come to A&E, and whose health might be put at risk by not doing so," he added.
"While NHS staff have pulled out all the stops to deal with coronavirus, they have also worked hard to ensure that patients can safely access urgent and emergency care when they need it.
"So whether you or a loved one have the symptoms of serious illness like a heart attack or stroke, or you are a parent worried about their child, our message to you is: the NHS is here for you, so please help us to help you and come forward for care when you need it, using the 111 phone or online service as the first port of call."
President of the Royal College of Emergency Medicine Dr Katherine Henderson agreed, saying: "These figures show that the average time for a patient to receive treatment has fallen, which is likely to be a result in the reduction of attendances.
"Patients who are seriously injured or in urgent need of medical attention should absolutely still go to their A&E."