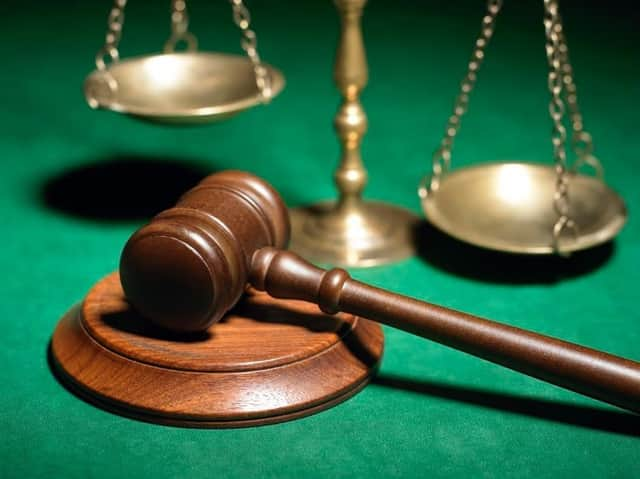 The case will be heard at the High Court
Lee Hudson, 49, who left the RAF as a sergeant in 2013, says his service left him with noise induced hearing loss and tinnitus, leaving him compromised on the open labour market.
Now Mr Hudson, of Lancaster New Road, Cabus, claims in his writ, which has been made public by the court, that his condition was the result of alleged negligence by the MoD.
The court papers say he joined the RAF in 1990, and says he was first exposed to excessive noise during basic training at RAF Swinderby. They say that for around six weeks he was using a self-loading rifle on live firing ranges without ear protection.
He and other recruits fired their rifles or submachine guns in exercises lasting up to a whole day, and he was also exposed to the noise of thunderflashes, according to the writ.
It says he was also exposed to extremely high levels of noise when he had to overhaul and test jet pipes on a testing rig in a small confined room.
Although he wore over-ear ear defenders, the writ says that these were inadequate. And it says he also visited live firing ranges and took part in exercises without any hearing protection, the court will hear.
In 1994, he became a general purpose machine gun gunner, which he fired from a fixed position on a Land Rover on exercises lasting up to five says, with no hearing protection.
As an aircraft handler and mechanic at Brize Norton in Oxfordshire, it says he was exposed to the nose of aircraft taking off and landing throughout the day and night, and had to carry out ground tests of jets, standing beneath them as engines were fired to 80 or 90% of capacity, wearing a communications headset giving no protection from noise.
Mr Hudson says he served in Turkey and Bahrain, travelling in noisy Hercules aircraft, and later worked at RAF Leeming where he worked with Tornado fighter jets, where he used over-ear ear defenders, although he did not generally wear these when moving around camp.
In 2012 and 2013, he says he spent four months at Camp Bastion in Afghanistan, and was constantly exposed to noise in his accommodation next to the medevac landing pad for helicopters.
He accuses the MoD of negligence by exposing him to excessive noise, by failing to make any noise assessment, by failing to keep records of any noise assessments, and failing to reduce the risk of damage to his hearing to the lowest level reasonably practicable.
The MoD is also said to have negligently failed to give him suitable and efficient ear protectors, failed to enforce the wearing of hearing protection, and failed to redeploy him or change his duties to reduce his exposure to the risk of hearing damage from noise.
Support us and become a subscriber today. Enjoy unlimited access to local news, the latest football stories and new puzzles every day. With a digital subscription, you can see fewer ads, enjoy faster load times, and get access to exclusive newsletters and content. See here: https://www.lep.co.uk/subscriptions