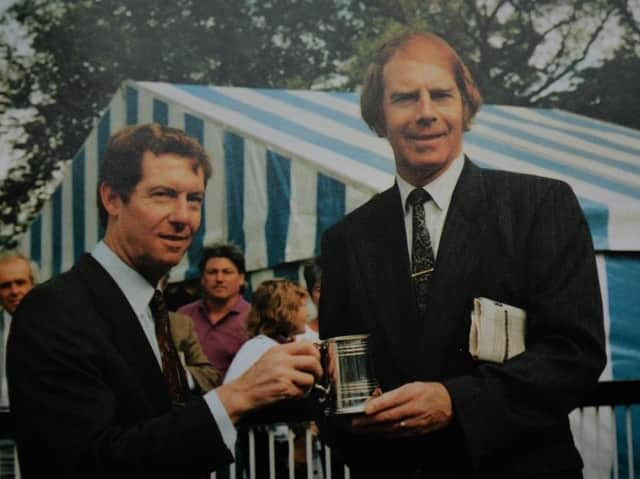 Andrew, right, receiving a race trophy from Mel Brittain following a Laurel Queen success at Thirsk.
The paper's peerless tipster, who became the nation's top forecaster on flat racing in the 1970s, passed away in the Royal Preston Hospital after a long illness.
Andrew worked for the Post for 46 years, first as a printer and then as a journalist, before setting up a successful racing club.
His sister-in-law Gail Newsham said: "He was brilliant at what he did. He knew racing inside out and was still watching it on TV pretty much to the end. But he was also a lovely man, a true gentleman and he will be sadly missed."
Andrew joined the LEP as a copy boy and became a trainee compositor. It was during his apprenticeship that he started contributing racing tips to the newspaper's sports pages.
Speaking on his 80th birthday in 2012, he said: "I'd always been keen on horse racing and I was asked to do some selections for an article they were doing in the paper.
"The selections I did showed a profit so I was asked to contribute some more. I started doing regular pieces on racing, writing them in my lunch break. Eventually I was asked to join the sports desk and made the step up into journalism."
Andrew's reputation for picking winners quickly grew, not just in Lancashire but also across the UK. In the early 1970s he came top of the Sporting Chronicle naps table nationally, scooping the paper's Gold Cup trophy, and later was revealed as far and away the Sunday Times top flat racing tipster over a 10-year period.
He also wrote two books on racing - one about champion steeplechaser Silver Buck in 1984 and 10 years later a second called Laurel Queen: A Look Behind the Scenes of Racehorse Training.
During his time in journalism he contributed to papers across the United Newspaper group, also the News of the World, the Scottish Sunday Mail and worked for the BBC and independent radio.
He was a keen Preston North End fan and, for a time, even covered the fortunes of Blackpool FC for the Post on top of his work as racing editor.
Andrew set up a racing club for LEP readers, giving them the chance to buy shares in racehorses. And he launched Laurel Leisure in 1989, becoming managing director and team manager for a string of horses. His wife Pat was company secretary.
Laurel Queen was one of the first horses bought to run in the company's yellow, black and white colours.
Sister-in-law Gail added: "We all knew how good he was, yet he remained very humble.
"Setting up the racing club was a fantastic achievement. It was a gamble, but it paid off. It had more than 2,000 members at its peak.
"The club had some very good years and it proved to be a huge success. And much of that was down to Andrew and his knowledge and professionalism."
Andrew leaves a wife Pat, two children Ian and Elaine and five grandchildren.