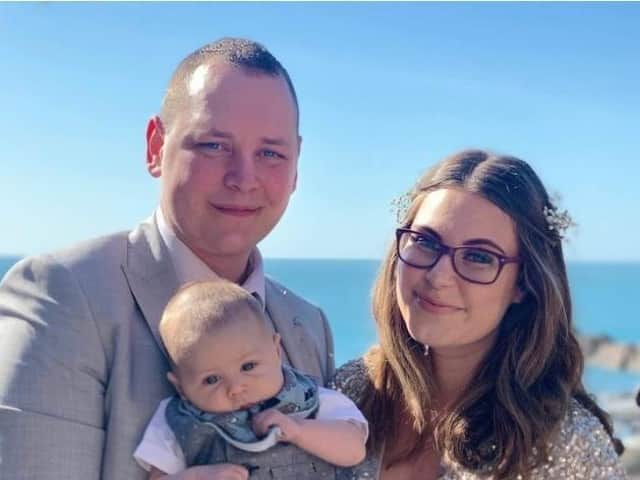 Jade with husband Patrick and 18-month-old son Reuben.
Now the distraught mum has called on the Government to relax the rules for partners in emergency cases so couples are spared the ordeal she and husband Patrick suffered at the Royal Preston Hospital.
Jade, 27, was not allowed anyone at her bedside after being rushed in with a ruptured ectopic pregnancy two weeks ago.
Patrick was left at home with their 18-month-old son Reuben for around 11 hours praying his wife would pull through.
Jade wants Health Secretary Matt Hancock to relax the regulations to allow partners to be there in emergency situations.
Now convalescing back home in Longridge, Jade has launched a petition calling on Health Secretary Matt Hancock to "Stop women having to go through pregnancy complications and loss alone during Covid-19."
"I wouldn't want anyone else to go through what I went through and what Patrick went through that day," Jade told the Post.
"I've never been so frightened in my life. It was an extremely traumatic experience. Yet I had to go through it alone instead of having my husband there to hold my hand.
"Partners are now being allowed to attend 20-week scans and also be there in the very last stages of delivery.
"But I lost my baby and I could have died in surgery, yet Patrick had to stay away. It just doesn't seem right."
Jade was rushed into hospital in agony and was told she would need immediate emergency surgery. Doctors removed a ruptured fallopian tube and told her later she had bled so much there was a litre of blood in her abdominal cavity.
"It was 11.30 in the morning when the ambulance took me in and I only managed to get a quick call to Patrick at about six o'clock saying I was going down for surgery," she explained.
"The poor love was at home all day and then up until about 10.30 at night before he found out I was OK. He thought I was going to die because I was so unwell.
"It must have been terrible for him not knowing what was happening.
"I started the petition to not only ask the Government to ease the restrictions for emergencies, but also to raise awareness that so many women are having to go through these sorts of things without a loved one at their bedside."
The petition at Change.org had been signed by more than 3,200 people by this afternoon.
You can sign it at: http://chng.it/F8GwCh4t