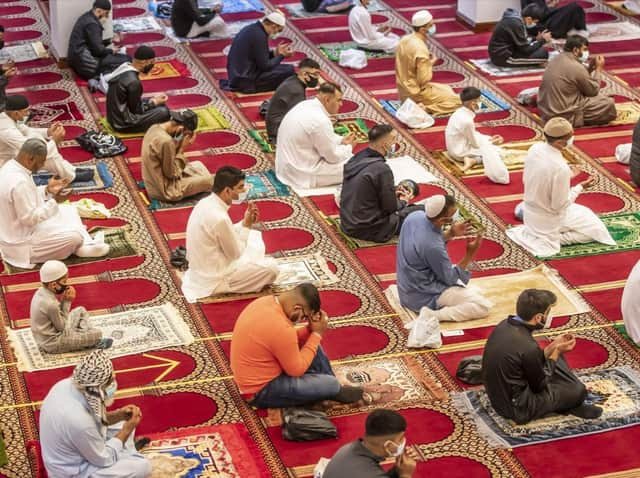 Worshippers observe strict social distancing during Eid prayers on Friday (July 31). Pic credit: Danny Lawson/PA Wire
There might be a new lockdown in parts of Lancashire, but community leaders say mosques across the county are going 'above and beyond' the Government guidance to keep communities safe.
Ismail Timol, from Preston Muslim Cultural Centre in Fishergate Hill, said he's never seen a "better example of social distancing".
"We are doing everything and more to keep people safe," said Ismail.
Ismail Timol, from the Muslim Cultural Centre in Fishergate Hill, is one of a number of people volunteering to help organise safety measures at the mosque
"Celebrations are limited this year, so everything feels a bit different. During prayers we would usually stand shoulder to shoulder, and obviously this can't happen this year.
"But we are making the best of it whilst keeping everyone safe.
"We have mapped out our prayer rooms to make sure we have 2 metres between people, instead of the 1 metre that the Government recommends.
"We have a number of volunteers on duty at every prayer, who enforce social distancing and make sure everyone sanitises their hands before they enter.
"There is a one-way system in and out and everyone must bring their own prayer mats.
"We really are going above and beyond to make sure this Eid is safe for everyone."
But Ismail has questioned the timing of Lancashire's new lockdown measures on the eve of Eid.
He said there is a feeling among the county's Muslim communities that they have been unfairly singled out for criticism over the recent spike in coronavirus infections.
"We must question the Government's decision to impose the lockdown in Blackburn and other parts of Lancashire the night before Eid.
"It really didn't give people much notice and it feels a bit like they are indirectly aiming it at us.
"It's a shame because we are all in this together, but it feels like the timing of it suggests we're to blame.
"Even the text message from my local surgery singled out mosques, but didn't mention other places where people can meet."
Ismail was referring to a text message sent to hundreds of households from a Preston GP on Friday (July 31).
The message said: "'Preston has had a spike of coronavirus; please avoid visitors in your home, wear face coverings in enclosed public spaces/to mosque. Get tested if you have symptoms."
Ismail added: "This is something we are going to have to investigate and get to the bottom of, because why they thought it was acceptable to single out mosques without mentioning any other public and social spaces is troubling.
"I don't think that was an appropriate way to put the message across and it could lead to ill feeling against Lancashire's Muslim communities at a time when we should all be working together to fight this virus."
On Friday, Lancashire Resilience Forum - the organisation tasked with leading the county's response to coronavirus - urged Muslim communities to take "effective action" to prevent further outbreaks.
It said: "There has been an increase in coronavirus infections in parts of Lancashire, with a prevalence in some of our Muslim communities, for social and economic reasons.
"It's important that we all take effective action to protect all of our communities as we approach Eid Al-Adha.
"People are reminded to follow the coronavirus guidance to keep themselves safe this weekend."
But Angie Ridgwell, chief executive of Lancashire County Council and chair of the Lancashire Resilience Forum, followed this by praising Lancashire's Muslims for their "outstanding" efforts in tackling the spread of the virus.
She said: "Our Muslim communities in Lancashire have been outstanding throughout the coronavirus crisis, playing a huge role in helping us to control the virus in the county.
"We would like to pass on our heartfelt thanks for this and ask you to keep this up, not least this weekend.
"Eid Al-Adha will be different this year, but it will still be a time of joy and celebration. We wish you all a safe and happy time."
- Stay at home and celebrate with people you live with.
- Celebrate with other people using technology such as video calls.
- In Blackburn with Darwen, people are asked to avoid meeting different households inside.
- In other parts of the county, don't meet with more than two households indoors. If you can, avoid this completely.
- Meet other people outside if you need to.
- Stay local. There is an increased risk if you visit other places.
If you do decide to go to the mosque to pray, follow and share this guidance:
- Follow the social distancing and hygiene guidance. Make sure you sign in and out.
- Walk to the mosque, if possible. Avoid car sharing with people you don't live with.
- Give Eid greetings without hugging or shaking hands.
- When you attend prayers, keep 2m apart from anyone you don't live with.
- Avoid congregating before or after prayers, particularly indoors.
Eid Mubarak from everyone at the Lancashire Post!