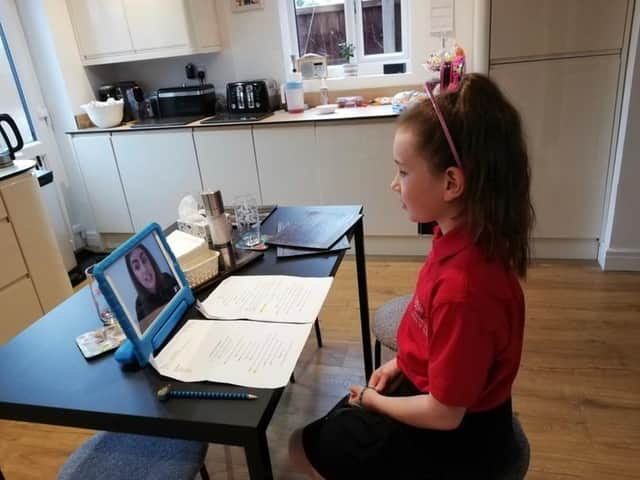 Another Little Voices online session in action.
Little Voices, whose past students include the youngest ever finalist in The Apprentice and a teenage thespian who starred in Matilda on the West End, have moved all of their regular weekly drama and singing lessons online to help ease the pressure and give our pupils some form of normality, with the classes involving drama, games, and songs.
"With the current situation, the mental health and welfare of our children is more important than ever," explained Rachel Bradshaw, the principal of Little Voices venues in Chorley, Leyland, and Preston. "Their lives have been turned upside down; everything that was familiar to them has completely gone.
"They can't go to school, they can't see their friends and interact socially, they can't visit granny and granddad, go to the cinema, play outside, go to the shops... Suddenly the whole family is at home on top of one another twenty four hours a day," Rachel added. "It's a tough situation."
A Little Voices student taking part in an online class.
"Children need some form of regular routine right now and parents are having to provide all of the entertainment and learning, as if parents don't have enough to deal with at the moment. It's been amazing to see their faces light up when they see each other on screen each week and finally get a chance to interact with each other and their Little Voices tutor."
Founded in 2007 by current CEO Jane Maudsley in her hometown of Blackburn, Little Voices now has over 50 franchises including eight branches in Preston and Chorley alone. Prior to the outbreak of Covid-19, Rachel, who lives in Buckshaw Village, worked with around 150 children every week on top of her work as a full-time secondary teacher.
"These weekly lessons are giving children a focus each week, a goal of something to achieve, something to look forward to, a chance to interact with their friends and enjoy some fun and silliness, and it takes the pressure off parents for a while too," Rachel said. "It provides routine, an outlet, stability, and a chance to carry on doing what they love - performing."
Online lessons and workshops will be open to pupils in the Preston, Leyland, and Chorley areas from Monday 20th April. For more information contact [email protected] or 07480 064 828.