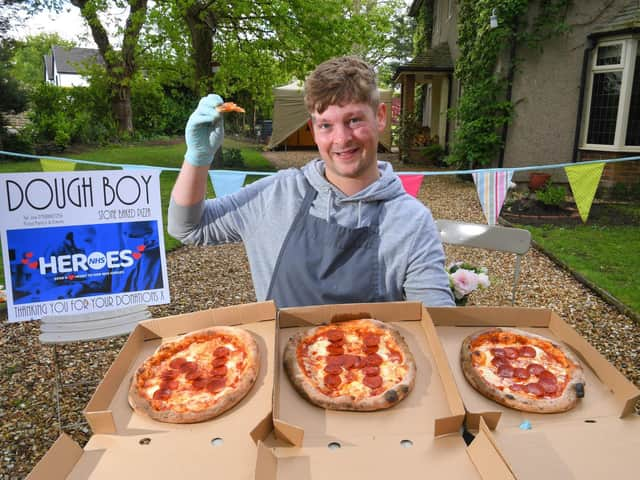 Joe Sullivan with of his pizzas in support of the NHS
Talented Joe Sullivan has reinvented himself into a pizza chef under the name Dough Boy after returning from France where he worked for four years.
Trained chef Joe, 28, is making and selling his delicious creations from a tent on the driveway of his home in Hoghton.
And he is asking customers to simply make a donation to the NHS and care home staff when they come to pick up their orders,
Last month he set up a Gofundme page.
He asked: "Do you want to join me in making a difference? I'm raising money in aid of NHS Charities Together /Association of NHS Charities and every donation will help. Thank you in advance for your contribution to this cause that means so much to me."
He explained: "I started a new company and thought what a great way to start by doing fund raising.
"I've raised £270 so far for the NHS. I'm still taking donations. It's all for a good cause."
Joe said he was also inspired to do his bit for charity as his grandfather David Jackson, who has dementia, is a resident of the Four Seasons care home in Bolton.
Joe praised the work staff there are doing by looking after the elderly folk, too.
"All the staff are doing a really good job," he said.
Joe said he had already experienced lockdown abroad and saw what was coming here.
He continued: "I'm a private chef. I was working in France and had to come home with what's going on.
"I was sat at home twiddling my thumbs and decided to set my own business up.
"I bought myself a pizza oven and thought I can sell them here, doing something for myself."
Joe, a former pupil of St Michael's High School, Chorley, was kindly donated a tent from the nearby Teepee Tent Hire company for whom he used to work, and off he went.
He's now making some 40 pizzas a night, selling them between 5pm and 8pm and Fridays and Saturdays for between £6 and £8.
He said: "There's a collection point at the end of the drive. They'll book a fifteen minute slot, pull up at the end of the drive and pick up from the collection point - it's all social distancing to the government guidelines. I say instead of tipping me, just put something in the collection box.
"It's keeping the community happy, something to look forward to."
As regards his charity work, he said: "I just thought I'd do my bit. Everyone is doing their bit and every little helps."
Joe's business is becoming really popular through social media.
"I hit six hundred likes on Facebook in just under two weeks," he said.
You can contact Joe at Dough Boy Events on Facebook.