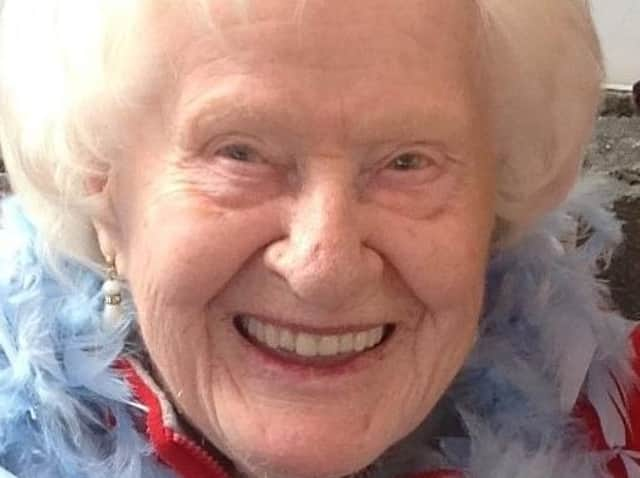 Annie Taylor on Hollywood Day at Moorside Hall nursing home. Annie celebrated her 100th birthday on March 18.
Moorside Hall nursing home hasn't had a single case of Covid in a year and not only that, two of the residents are 100 this month and next month.
Jenny Macking, registered manager, said: "Last year on March 18, we closed our nursing home to visitors, due to Covid-19. Almost a year later, we are one of the very very few homes in the area who have remained Covid-free throughout.
"Annie Taylor was 100 on March 18, she has been with us since August 2018 and lived in Morecambe. We also have another resident Eddie Austin, who will be 100 on May 1. He has been with us since June 2019.
Eddie Austin pictured on Military Day at Moorside Hall nursing home on his 99th birthday. Eddie will be 100 on May 1.
"We have waited since 2006 for a 100th birthday and now we get two in a few months!"
Jenny said Moorside Hall nursing home, which has 32 members of staff, shut their doors a week earlier than government advised, on March 18, 2020 and have concentrated on infection and prevention control.
Jenny, who has worked at the home for four and a half years, said: "We have 22 residents and Moorside Hall is a dementia nursing home. Most of our residents have dementia, Annie and Eddie do, but Annie can still hold a good conversation.
"It's been quite difficult for the residents that have cognitive difficulties to understand Covid and that they can't have visitors.
Military Day celebrations at Moorside Hall nursing home with staff.
"However, it's mostly difficult for the families who haven't seen their loved ones for a whole year.
"A lot of families did Facetime and whatsapp to stay in touch.
"We have had entertainment in the garden, so residents could turn their chairs round and watch that. One of our singers Rachel Mercer performed, and we have had two church groups singing.
"However physical contact has been absolutely zero. Being a smaller nursing home it has been challenging.
Satt at Moorside Hall nursing home on Christmas Day.
"Some of the residents had window visits, and we tried to be able to facilitate these visits for the whole year.
"We got the pod around September, the main dome of the pod comes off the garden into a large porch area.
"The relatives come in to a square room, you can fit about four in, and there is a big perspex screen and an intercom.
"The resident sits behind the perspex screen but inside the home and they can communicate through the intercom.
Hollywood garden party at Moorside Hall nursing home with singer Rachel Mercer and members of staff.
"It has been marvellous, the smiles from the residents and the relatives have been worth it.
"For the past two weeks, we have had some indoor visits and residents and relatives have been able to hold hands with masks and gloves on.
"There have been tears of happiness at these visits.
"Our families have been amazing with everything we have done and I want to thank them.
"I'm exceptionally proud of the staff and the way they have handled this. The staff participation has been marvellous and I want to say how fantastic the staff have been helping to keep the home Covid free.
"They deserve a medal as far as I'm concerned!"