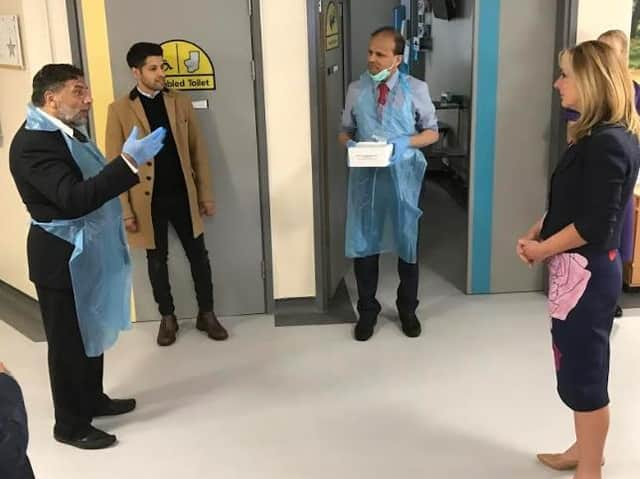 Yousef Bhailok (left) discusses the new test kits with Dr Munavvar and Trust chief executive Karen Partington.
More than 5,000 of the test kits have been sourced by the Bhailok family in Preston after weeks of negotiation.
And now the tests are being put through research trials at the Royal Preston Hospital before they are rolled out to staff treating Covid patients.
"This is a unique opportunity for us, and probably the first of its kind in the UK," said Dr Mohammed Munavvar, consultant chest physician and interventional pulmonologist at Lancashire Teaching Hospitals NHS Foundation Trust.
"These kits mean we can work towards a rapid, point-of-care antibody test, by allowing us to facilitate initial feasibility studies in our frontline health workers.
"Following this evaluation, it is our hope to extend this testing to our other healthcare workers and beyond.
"On behalf of our staff, I'd like to express my gratitude to the Bhailok family for their incredible kindness."
Mr Yousuf Bhailok led the project with his family members Mustaq, Ayub and Dr Faisal Bhailok and his wife Lamisha, who both work at Lancashire Teaching Hospitals.
Yousuf said: "We are absolutely delighted to be supporting our local hospitals and the NHS.
"The Bhailok family are proud Prestonians, with three generations born in local hospitals, and four generations having lived in the city since 1958."
This is the latest donation from the Bhailok family, who have already given £50,000 to the Lancashire Teaching Hospitals Charity towards their Critical Care Appeal and also to support the NHS Hero Care Packs for the frontline.
In March when the impact of the coronavirus was felt across the UK, the family launched a city-wide appeal for the people of Preston to rally together to help raise £1m for their local NHS hospitals and to help protect its frontline workers from this terrible disease.
Paula Wilson, head of charities at Lancashire Teaching Hospitals NHS Foundation Trust, said: "We'd like to say a huge thank you to the Bhailok family for their amazing generosity and continued support.
"The Bhailok family made a decision very early on in the Covid-19 pandemic to purchase these testing kits and worked hard to procure them under unprecedented global pressures, for the benefit of our dedicated staff members.
"I would really like to commend them for this amazing act of kindness."
The tests will be used firstly in a proof-of-concept study to see how accurate they are in comparison to staff that have tested positively or negatively for COVID-19.
The research study will take place in the Research and Innovation department at Lancashire Teaching Hospitals.
Staff there have been assisted in designing the study by colleagues in the Clinical Trials Unit at the University of Central Lancashire.