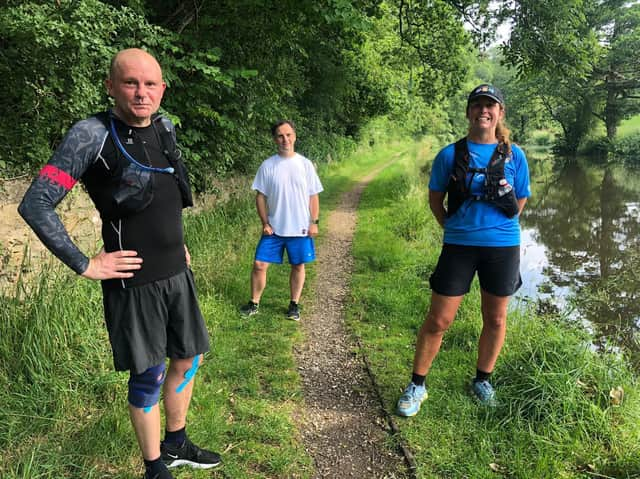 Justin Johnston, left, with Sarah Holden and a colleague
Mr Johnston, an experienced runner, ran the entire length of the Lancaster Canal this week with Firefighter Sarah Holden.
The Lancashire Fire and Rescue chief ran it to raise vital funds for the Lancashire Teaching Hospitals Charity.
The charity helps to ensure Royal Preston and Chorley and South Ribble Hospitals are equipped with the very latest in technology, enabling vital research and making hospitals more comfortable for patients and their families.
Justin Johnston in uniform
And Mr Johnston's gruelling efforts have already raised more than £2,000 via his JustGiving page.
The fire chief said he had wanted to do something to help the charity as a thankyou for all the sterling work that staff had done during the coronavirus pandemic.
Setting off from Lancaster, Mr Johnson and his colleague, also an experienced runner who had covered the route before, made it to the finish line in Preston after around nine hours to the cheers of waiting colleagues.
The fire chief admitted his legs felt a little "stiff" the next day, but other than one blister he had suffered no ill effects.
He said he was an experienced mountain and hill runner and took a chance the day before the run to invest in a new pair of trainers more suited to the paths and roads.
They felt fine and he was delighted to complete the course.
Mr Johnston said: "It wasn't too bad - it was about getting our strategy right and keeping a pace that we could chat at.
"I have done 50 miles in the past so I knew I could do it.
"To be honest by the last three miles I had had enough - I was ready to stop!."
The fire chief said he was aware that all charities were struggling for funds at the moment and he wanted to do something to thank local hospitals for all they had done during the virus crisis.
To donate, visit: https://www.justgiving.com/fundraising/justin-johnston3?utm_id=124