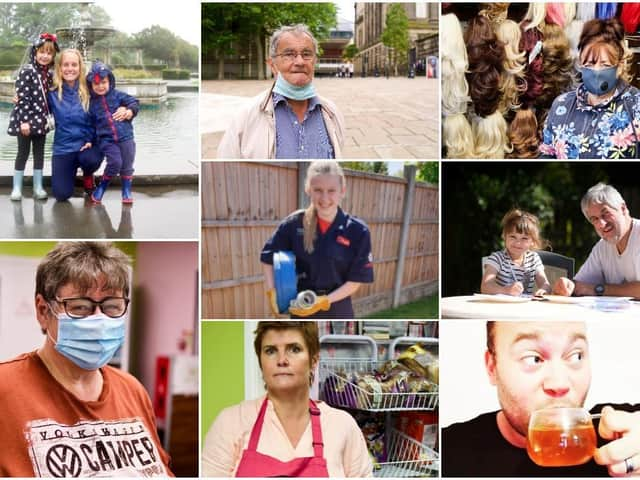 From left to right, top to bottom: Beth Lamoury with Sophie, five, and Joshua, two; Jack Wilkinson; Maxine Moreley; Keira Southworth; Trevor Hart with Tara, five; Diann Bennett; Stephanie Afifi; and Marcus Wright
The Lancashire Post hit the streets to speak to residents who have a snapshot census of their difficulties - and triumphs - during the dark days of Covid lockdown.
These are their chronicles...
Trevor Hart, 61, from Cottam, said: "People have said, 'You're brave having a five-year-old and teaching her,' but I say, 'Without that five-year-old, I think I would have gone spare.' "I couldn't get out and do the same things. I couldn't socialise. I couldn't get involved in all the things that I was involved in. "Sitting on my own staring at four walls would have sent me around the twist. "I'm a guy on my own now. I lost my wife to a brain tumour four years ago. "I would have been literally on my own and I think I would have found that extremely hard. "Life will change again come September. "If I can't get out and do stuff, I think I'm going to find that quite lonely. "I know I'm going to miss her when she goes back to school. "It's the right thing to do, but, yeah..."
Jack Wilkinson, 79, from Fulwood, said: "The older people seem to abide by the rules, but not the younger ones. "The younger ones want to forget it all and they want to be leading their normal lives, but you can't. "Because if it gets you, you've had it."
Diann Bennett, 61, from Larches, said: "My husband has got quite a lot of illnesses: asthma and a bit of a bad heart. "Although he hasn't been shielding he hasn't wanted to go out, and neither have I, in case I catch something and then I pass it onto him. "It stops you from wanting to socialise or go out at all. "We were going out once a week for food. "Again, he didn't want to go shopping so I went and did it. "You just try and busy yourself. "It went on for three or four months, more or less until they eased it a little bit. "We are lucky because we are in a bungalow and they've made a little back alley. "It's all private and there's a bit of a garden at one end and a bit of a garden at the other and that's where he has taken the dogs. "Although we are facing a beautiful park, he has not wanted to go out the front. "It made me feel a bit depressed, I suppose. "It has made everybody feel depressed."
Beth Lamoury, 33, of Garstang, said: "Joshua (two) would normally be at nursery two days a week and Sophie would have normally been at school. "Sophie was so used to being with friends and she loves people, so at first she was asking if she could have this person round and I was saying no. "Joshua hasn't really noticed. He's a two-year-old. He just carries on in life. "But Sophie has probably struggled more, but once she knew she got on with it. "As long as you tell her, then she's fine. She gets on with it. "They do, don't they? They adapt."
Stephanie Afifi, 55, from St Annes, who helps out at Whitby's Pantry in Ingol, Preston, said: "Some people haven't been able to get food from anywhere else, through financial crisis as well. "Everybody has been really positive and said this has been a lifeline. "It's been repeated from various quarters so we've had the same comments again again. "Actually, some people have said that during the height of the lockdown we were the only people they were seeing from week to week. "It's made me feel really good and sad at the same time, because they did not have anyone else to talk to - but we've had good chats!"
Marcus Wright, 33, from Preston, said: "There are people out there - unsung heroes, I call them - who are ordinary people. "They could be your neighbour, the person across the street, a family member, a friend, absolutely anybody. "They could be going through something or trying to raise awareness for something and you might not necessarily know, and I wanted to try and build a community where people could come and talk about what they wanted to talk about. "Previous to all of this I had always wanted to start a podcast. I just never knew how to do it. "Lockdown gave me the kick up the backside really to go ahead and do it."
Market stall holder Maxine Moreley, 54, from Atherton, said: "There are lots of seaside destinations for people to go to, but people love to come to Blackpool. "They always have done. "We have the Illuminations until January 3, which is going to be really good. "If we get good weather we will probably open on the weekends. "And we have all the attractions: the Pleasure Beach, Madame Tussaud's, Sea Life, the Tower, Bonny Street Market, the Golden Mile. "People love to come and I do think it will survive."
Keira Southworth, 15, from Clayton-le-Woods, said: ""I did nine hose runs over nine days to raise money for The Fire Fighters Charity. "We used the number 999, so we did nine hose runs over nine days. "Another event that has taken place is my EmpowerHer group, which I did with the local youth zone - Inspire - and we made gift bags for the residents in care homes and some for the staff to appreciate their work during lockdown. "Throughout lockdown, I did struggle as I normally have a club every day and that keeps me busy, but I knew I had to do something and that's when I thought, 'Why don't I get involved with all these amazing things for other people?"