Chorley's Taboo Pause: Giving menopausal woman a supportive safe-haven
It was over a bottle of rosé wine in Croatia in the summer of 2018 that Donna Townson and Claire Ross Arnold came up with the idea for Taboo Pause. Having met on a yoga retreat and become firm friends, they were both growing increasingly frustrated at the lack of useful information and general support for women in menopause and resolved to do something about it.
By
Jack Marshall, Reporter
Tuesday, 31st March 2020, 7:00 am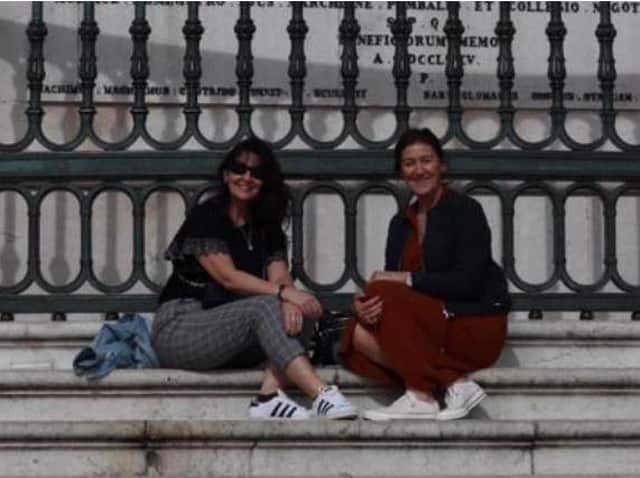 Taboo Pause founders Claire Ross Arnold (left) and Donna Townson.
"A lot of friends - glamorous, classy ladies - were starting to go through the menopause and I felt we really needed to open up a hub for Chorley," says Claire Ross Arnold, 50. "There's no way a woman's not going to go through the menopause and it can get incredibly frustrating when women go to the doctor's and they don't get answers and their partners don't understand.
"It's a massive mental and bodily change, so having a community of people going through the same thing is just a relief," adds Claire, from Wheelton. "When it started, we had women coming who were at their wit's end - nobody understood. To be able to come and talk and share whilst having a laugh and a giggle has been huge."
Having started in August, Taboo Pause regularly welcomes around 25 attendants to their monthly meetings at Donna's cafe, Massa's Dessert-Café-Bar, offering a supportive community for menopausal women to come together and share and discuss their experiences in a safe, positive, and uplifting way.
"There just wasn't a group for people attend socially rather than medically; we wanted a social outlet for women our age in a welcoming environment," says Donna, 51. "We both knew people who didn't have people to talk to about things like the menopause and we wanted to have fun and a bit of a laugh whilst focusing on things like mindfulness."
"The meetings are dead chilled out," continues Claire, a yoga teacher with La Maison Yoga. "At the end of the day, what we've created is a very laid-back environment where women come and talk to each other as well as listen about what goes on with their bodies. There's a social aspect to it, too: people are making friends through the group and we have ladies from all walks of life.
"It's really taken off and the reaction has been one of relief that something like this is finally available - you can see the relief on people's faces as they leave smiling - and it's a beautiful environment for a woman to come into," she adds. "No one is on their own."
Donna wholeheartedly agrees. "There's a lot of anxiety and worry that comes with menopause, so to have time to chat and meet people is really good," she says. "The biggest thing is seeing people leave a meeting and go out for a drink afterwards - nurturing and facilitating something special like that could make someone's day, week, or month. That's the best thing for me."
Each month, the group is addressed by an expert on topics relating to menopause ranging from well-being for women, mindfulness, and Reiki to holistic therapies, nutrition, and hormone replacement therapy (HRT). The group recently welcomed Sally Leech, founder of The Menopause Club, to a meeting and is looking to get more menopause-specific experts in for future events.
"It's amazing how little accurate information there is about how to care for yourself, which is frustrating," says Donna, from Chorley. "I think women hide going through the menopause because it was always seen as transitioning into old age and there's a stigma there. But it's the middle of life, not the end, and when you've gone through it there's a whole other life out there. There's a whole new adventure."
"Women don't want to openly say they're going through the menopause because psychologically it can be associated with being old and decrepit," explains Claire. "But these women are beautiful, glamorous, stunning 40-something, 50-something women who are affected by the psychological spin of 'you're on the menopause - you've had it', which is so terrible.
"It's frustrating that we're not open about it all," she adds, with the group hoping to expand to other branches in the future. "Education is what's needed; it's starting, but we're a decade away from really helping people and removing that societal stigma, which is so frustrating. But to see these women leaving the meetings feeling empowered is amazing."
Taboo Pause meetings cost £5, which includes a meal prepared by Donna. For more information, head to their Facebook page.